Shopping Cart
Your Cart is Empty
There was an error with PayPal
Click here to try again
Thank you for your business!
You should be receiving an order confirmation from Paypal shortly.
Exit Shopping Cart
Calling Scotland's 841,000 Catholics to unite as one voice
| | |
| --- | --- |
| Posted on August 21, 2015 at 10:07 AM | |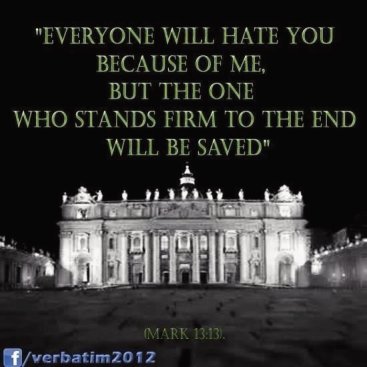 Sunday's Gospel (John 6:60-69)
'After hearing his doctrine many of the followers of Jesus said, 'This is intolerable language. How could anyone accept it?' Jesus was aware that his followers were complaining about it and said, 'Does this upset you? What if you should see the Son of Man ascend to where he was before?
'It is the spirit that gives life,
the flesh has nothing to offer.
The words I have spoken to you are spirit
and they are life.
'But there are some of you who do not believe.' For Jesus knew from the outset those who did not believe, and who it was that would betray him. He went on, 'This is why I told you that no one could come to me unless the Father allows him.' After this, many of his disciples left him and stopped going with him.
Then Jesus said to the Twelve, 'What about you, do you want to go away too?' Simon Peter answered, 'Lord, who shall we go to? You have the message of eternal life, and we believe; we know that you are the Holy One of God.''
In today's Gospel we hear of how a number of Jesus' followers began to leave him because of his teaching.  The teaching was, in essence, too challenging for them to come to terms with and would have taken them out of their comfort zone.  As a result they claimed that his language was intolerable and questioned whether anyone could accept it.  Jesus' response was to ask them if what he says is upsetting to them which, judging by their sudden departure appears to be the case.  And is Jesus ready to offer them comfort and consolation in their lack of faith? Not at all!  Jesus' reaction is to simply tell them what's what, to tell them the plain and simple truth.  He then turns away from them and challenges the twelve disciples on whether they are prepared to stick with him.
And Simon Peter's response to this challenge is crucial.  Crucial because it is a response we should all have in our hearts when it comes to Christ's teaching, be it through the Word or through the Tradition of His Church.  Peter says, "Lord, who shall we go to?  You have the message of eternal life, and we believe; we know that you are the Holy One of God."
There is no one to go to but Christ.  Jesus Christ is the only way to God.  He is the only one who has the message of eternal life.  His words are spirit and they are life itself (his own words). Our challenge is to utter those words of Peter and admit that Christ is the Holy One of God.  Our challenge is to admit that Christ's teaching, entrusted to the Church he himself founded, is truth itself and free from defect and it is held and protected by the Church until the end of time.  Our challenge is to join the Church and to follow Christ through thick and thin, even if we are hated for doing so.  As Christ himself said: 'Blessed are you when men revile you and persecute you and utter all kinds of evil against you falsely on my account. Rejoice and be glad, for your reward is great in heaven.'
Categories: Apologetics, Bible, Catholic, Church, Dwelling on the Word of God, Faith, God, Gospel, Gospel Reflection, Heaven, Jesus, Life, Persecution, Salvation, Scripture, Suffering, Tradition, Word of God
/