Shopping Cart
Your Cart is Empty
There was an error with PayPal
Click here to try again
Thank you for your business!
You should be receiving an order confirmation from Paypal shortly.
Exit Shopping Cart
Calling Scotland's 841,000 Catholics to unite as one voice
| | |
| --- | --- |
| Posted on August 10, 2015 at 7:45 AM | |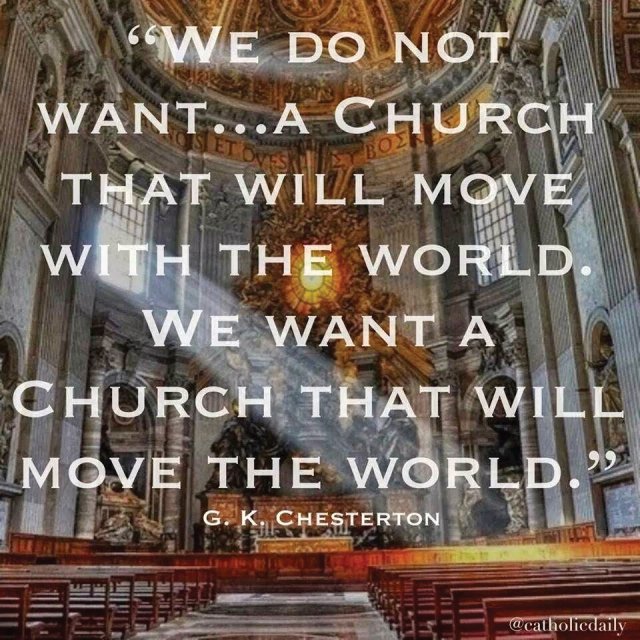 GK Chesterton's powerful quote could be our inspiration
I had cause to be in a Catholic secondary school recently and was immediately struck by the show of faith in the school's main halls.  Numerous crucifixes hung from the walls and there were posters detailing the Beatitudes and other teachings of the Catholic faith.
And perhaps the most striking thing about all of this was simply the incredible beauty of our faith and how lucky and blessed we are to have it.  As I looked up at the multitude of posters I realised that they were all carrying very similar messages.  Indeed, they often repeated the same words over and over again.  Words like love, compassion, forgiveness, humility, service, honesty, peace and friendship, to name a few.
It immediately struck me that we are incredibly lucky to have a faith with these values, especially when you set it against the backdrop of the modern, relativist age where the constant message from the multitude of media outlets is so often about bettering yourself and being happy with your own life.  The values set out on these school walls are the complete opposite of this modern relativist ideology.  These values challenge and encourage people to think of others and to bring the message of Christ to the world; a message of love, compassion, forgiveness, humility, service, honesty, peace and friendship.  These are all values that we, as Catholic Christians, are expected to evidence each and every day of our lives.
If we cannot hold these values close to our hearts and be proper witnesses to them by our words and deeds, how then can others possibly be convinced that it is the right and proper way to live? 
And this is where prayer can be our help. It is through prayer that we can receive the graces to bring Christ's message, and the beautiful faith which he has entrusted to us, to others.  This prayer can take many forms: one-to-one time with Jesus, a Rosary, reading Scripture or the Catechism, reading or listening to the liturgy of the hours, attending the sacrament of Confession, and of course Holy Mass. 
There is an incredible richness to our faith; a richness we would all do well to explore as much as we possibly can.  By immersing ourselves in our faith we are learning the way to love, the way to forgive, and the way to peace.  Only Jesus Christ can deliver true peace to our troubled world.  And what better way for us to partake in that mission than to bring to the world the true beauty of Christ's very own Church. 
Brother and sisters, our faith is something beautiful, something incredible.  It is a faith that simply must be shared.  Consider those values stuck to the wall of that secondary school: love, compassion, forgiveness, humility, service, honesty, peace, and friendship.  Aren't they the complete opposite of all the heartache we witness in our world today; the wars and terrorism, the unnecessary deaths of innocent children, the poverty, the greed, the envy and the harmful gossip? 
Our faith is everything the world is not.  It is love, it is compassion, it is forgiving, and it is peaceful.  Let us make sure the world knows the truth of our faith. Let us immerse ourselves in the true beauty of our faith and the undying love of Jesus Christ, and never be afraid to let it shine out of us like a beacon of hope for the world.  Go on, get out there and be Catholic!  Let's move the world!
Categories: Apologetics, Catholic, Catholic Education, Church, Faith, Jesus, Love, Peace, Prayer, Relativism
/