Shopping Cart
Your Cart is Empty
There was an error with PayPal
Click here to try again
Thank you for your business!
You should be receiving an order confirmation from Paypal shortly.
Exit Shopping Cart
Calling Scotland's 841,000 Catholics to unite as one voice
| | |
| --- | --- |
| Posted on July 10, 2015 at 7:17 AM | |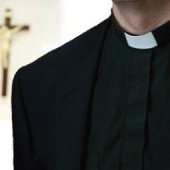 Sunday's Gospel (Mark 6:7-13):
'Jesus summoned the Twelve and began to send them out in pairs giving them authority over the unclean spirits. And he instructed them to take nothing for the journey except a staff – no bread, no haversack, no coppers for their purses. They were to wear sandals but, he added, 'Do not take a spare tunic.' And he said to them, 'If you enter a house anywhere, stay there until you leave the district. And if any place does not welcome you and people refuse to listen to you, as you walk away shake off the dust from under your feet as a sign to them.' So they set off to preach repentance; and they cast out many devils, and anointed many sick people with oil and cured them.'
Isn't it sad that priests are no longer able to 'go round the houses' as much as they used to?  I recall the days when our parish priest would simply pop by for a cup of tea and a natter as I was dragged away from whatever I happened to be doing so that the entire family was present before our holy visitor.  Now sadly, and mostly down to a lack of vocations, priests are simply too busy to be able to undertake such visits and the once common practice has all but disappeared.
That said; it's not beyond the realms of possibility that your priest could spare an hour or so to be in the company of your family in your home.  Have you ever thought about inviting your priest round for a cup of tea or even a meal?  Might it be the case that we ourselves have forgotten about our own responsibilities towards those who tend to our faith lives?  Have we become so cocooned in our own little world that we forget to include our priest as a critical member of our family?  When we consider whether or not to invite a priest to our home do we become embroiled in how it might adversely affect us rather than what it might mean to him?  Remember, the shepherd must also be loved, fed, watered and cared for.
So let us consider inviting our priest round to our homes to spend some time in his company and to make him feel like he is part of the family.  And let us be sure to extend a loving welcome to him and to listen to him so that when he leaves he is not inclined to shake the dust from under his feet.
Categories: Bible, Catholic, Christian, Christianity, Church, Dwelling on the Word of God, Faith, Family, Gospel, Gospel Reflection, Jesus, Love, Parish, Priesthood, Scripture, Vocations, Word of God
/