Shopping Cart
Your Cart is Empty
There was an error with PayPal
Click here to try again
Thank you for your business!
You should be receiving an order confirmation from Paypal shortly.
Exit Shopping Cart
Calling Scotland's 841,000 Catholics to unite as one voice
| | |
| --- | --- |
| Posted on November 17, 2014 at 10:05 AM | |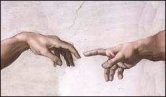 A recent YouGov poll has unearthed an astonishing difference in attitudes between British people and American people when it comes to the origins of life. 
In answer to the question 'How do you personally think life on Earth began originally?' a paltry 15% of Brits polled said that life was created by God.  This is compared to a much more respectable 53% of Americans.
In another interesting statistic, 19% of the Britons polled said that life was brought to earth by an older, alien civilisation from elsewhere in the universe.  10% of Americans polled believed in this explanation.   
The results are a damning indictment on the state of religion in the UK today, especially Christianity which is believed to be the most prominent religion on our shores.  However, it undoubtedly ties in with a significant downward trend in faith in the UK in recent years, with more and more people turning away from God and dipping into new age and relativist cultural movements.
Yet while this is the case in the UK, it is clearly not the case in the United States.  Why?  I would hazard a guess that people are more comfortable speaking about their faith in the US.  They tend to be more inclined to be open about God and have infinitely more Christian influence on their TV sets, radio and local web pages because people are more willing to take on such valuable ministries.  They are also not afraid to have public conversations about faith; to tackle the big issues head on.  All of this reinforces confidence in faith. 
Here in the UK the Christian influence is not so widespread and people do appear to be less comfortable talking about God; often preferring to speak in more relativist tones, encouraging people to be at peace with the self first and foremost, and to then try to roll it out to all people in a seeming spirit of inclusiveness and equality.  And while inclusiveness and equality are positives, we can never use it as a cover to exclude God.
This is a serious wake-up call for the United Kingdom.  It appears that we can no longer speak about a 'general' Christian culture in the western world.  Rather, we have a two-tier culture of western Christianity, with countries like the United States striding ahead with a clearly stronger belief in God and His Creation, where faith is built on rock.  And then we have places like the United Kingdom, an island cocoon of relativist self-absorption where faith is increasingly built on sand, lagging way behind.
Categories: Atheism, Catholic, Christian, Christianity, Church, Creation, Faith, God, Life, Relativism, Religion, United Kingdom, United States
/