Shopping Cart
Your Cart is Empty
There was an error with PayPal
Click here to try again
Thank you for your business!
You should be receiving an order confirmation from Paypal shortly.
Exit Shopping Cart
Calling Scotland's 841,000 Catholics to unite as one voice
| | |
| --- | --- |
| Posted on October 31, 2014 at 8:41 AM | |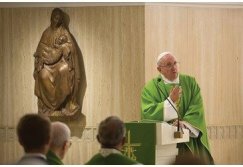 Pope Francis often talks about the devil.  Indeed, some argue that he talks about the devil more than any other recent pope!  Yet, many people won't be aware of this because the mainstream media tend to ignore anything the Church or the Pope says about critical issues such as satan.  Now, I wonder why the media doesn't like to report anything the pope says about the devil.  Why on earth would the media not reflect on this crucial aspect of Church teaching?  Was CS Lewis right when he suggested the devil actually uses the media as a tool to get to the faithful and turn them against God?  I think he was right on the money! 
Anyway, returning to the Pope and his reflection on the ongoing battle with the devil.  Here is what the Pope had to say in his homily on Thursday:
"From whom do I have to defend myself? What must I do?  Pauls tells us to put on God's full armour, meaning that God acts as a defence, helping us to resist Satan's temptations.  Is this clear?  No spiritual life, no Christian life is possible without resisting temptations, without  putting on God's armour which gives us strength and protects us."
"But in this generation, like so many others, people have been led to believe that the devil is a myth, a figure, an idea, the idea of evil. But the devil exists and we must fight against him.  Paul tells us this, it's not me saying it! The Word of God is telling us this.  But we're not all convinced of this.  And then Paul describes God's armour and which are the different types that make up this great armour of God.  And he says: 'So stand your ground,  with truth a belt around your waist.'  The truth is God's armour."
"Life is a military endeavour.  Christian life is a battle, a beautiful battle, because when God emerges victorious in every step of our life, this gives us joy, a great happiness: the joy that the Lord is the victor within us, with his free gift of salvation.  But we're all a bit lazy, aren't we, in this battle and we allow ourselves to get carried away by our passions, by various temptations. That's because we're sinners, all of us!  But don't get discouraged.  Have courage and strength because the Lord is with us."
Amen papa! 
Categories: Bible, Catholic, Christian, Christianity, Church, God, Hell, Jesus, Life, Media, Pope Francis, Satan, Scripture, Sin, Word of God
/