Shopping Cart
Your Cart is Empty
There was an error with PayPal
Click here to try again
Thank you for your business!
You should be receiving an order confirmation from Paypal shortly.
Exit Shopping Cart
Calling Scotland's 841,000 Catholics to unite as one voice
| | |
| --- | --- |
| Posted on September 30, 2014 at 9:42 AM | |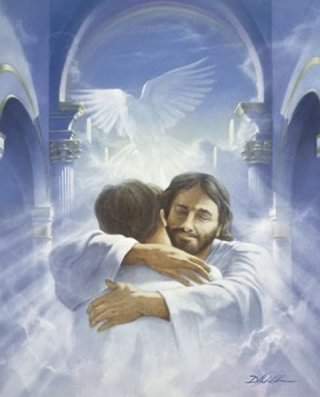 Christ brings forgiveness and freedom
The Catholic Church, as Pope Francis has declared on many occasions, is a Church of mission and we Catholic people are all called to carry the Good News to the ends of the earth and to share it with all people.  And this mission, we are encouraged, must be without condition and without restriction.  Our mission is to share it with all people and to pray that the Holy Spirit will use our efforts to penetrate the hearts of those who hear it. 
But what will I say?  Where do I start in sharing the Good News?  These are relevant questions and there is no easy answer, but perhaps we should consider starting with forgiveness.  Jesus, by his death on the Cross, died for all people.  Not just the people of Jesus' time and not just Christian people.  No, Jesus died for ALL people. 
Yet, why did he die?  Well, he died to take away our sins.  Everything we do wrong in our life, every bad decision which results in us hurting someone, anything that isn't good, all of it is forgiven by Christ hanging on the Cross.  And this, I suggest, has to be our starting point.
Many people are afraid of God and afraid of Christianity because they think it brings judgement and condemnation.  They think Christianity frowns upon every tiny wrong move in life; that it brings too much expectation, too much pressure.  Yet, the opposite is true.  Christianity does not judge and does not condemn.  Rather, Christianity brings understanding and compassion.  Christianity brings a man, bruised and beaten, nailed to a Cross and dying.  Dying for you, dying for me.
And yes, this is very hard to accept.  Of course it is!  Could you imagine if Jesus was around today?  He would be called a fool and ridiculed.    
Jesus was ridiculed beyond compare.  Yet he kept going.  He was abused beyond compare.  Yet he kept going.  He had his hands and feet nailed to pieces of wood.  Yet he kept going.  
Why did Jesus keep going?  Simple.  Because he loves.  He loves us!  He even loved so much that he forgave all of those people who ridiculed him and abused him.  He even forgave those who put him to death.
Jesus understood that we are all sinful because he witnessed man's inhumanity to man at first hand.  Yet he had compassion for them.  This is why Christianity brings understanding.  This is why Christianity brings compassion. 
And while people feel Christianity expects too much of people, I would argue that Christianity, drilled right down, only expects one thing; to acknowledge that we do wrong.  And by acknowledging this, we turn to Christ to ask him to pour out some of that forgiveness he bought for us  on the Cross.
There is nothing Christ is not prepared to forgive; nothing.  And that must be central to our evangelisation.  It must be central to our sharing our faith with others.  And when Christ rose from the dead three days after his crucifixion, he paved the way for us to rise from the ashes of our wrongdoings and failings.  His suffering on the Cross is our suffering in sin; our suffering because of the bad things we do.  Yet we, like Christ, can rise from this suffering. 
Christ, through the Church and through the priest, can resurrect our lives by forgiving us in the sacrament of Confession.  He can drag us out of the darkness and bring us into the light.  When we go to Confession, our slate is wiped completely clean.  Completely clean!  We have no weight on our shoulders, no burden to carry.  We are completely free!
Money can buy us all the material goods and possessions we crave, and that may bring us happiness for a while.  But money cannot buy us true forgiveness.  It cannot wipe our slate clean.  Jesus, however, has the power to do this.  It is Jesus who makes all things new.  
And remember this, Jesus never ever holds a grudge.  If you tell him you did wrong he will forgive you and he will immediately forget all about it.  That is why we can confidently say our slate is wiped clean with Confession.  Everything we confess is wiped from the record.  It no longer exists.  We are free.
This, I would suggest, is the message we must take to the world.  A message of forgiveness and freedom.  Tell people that they are loved beyond compare and that there is nothing they have done that Christ isn't prepared to forgive.  
This is our mission.  
To read more on the sacrament of Confession and what it involves, please
click here
.   
Categories: Catholic, Christian, Christianity, Church, Confession, Crucifixion, Evangelisation, Faith, God, Gospel, Holy Spirit, Jesus, Love, Missions, Pope Francis, Reconciliation, Sacrament, Sin, Suffering
/