Shopping Cart
Your Cart is Empty
There was an error with PayPal
Click here to try again
Thank you for your business!
You should be receiving an order confirmation from Paypal shortly.
Exit Shopping Cart
Calling Scotland's 841,000 Catholics to unite as one voice
| | |
| --- | --- |
| Posted on July 24, 2014 at 7:23 AM | |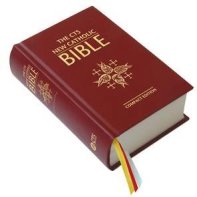 The final part of our series looking at common difficulties with faith considers the increasing lack of desire to immerse oneself in a study of the faith, especially when it comes to the Word of God.
Struggling with Scripture
Many people struggle with the Word of God and shy away from studying scripture as if it were a task reserved for the elite within the Church and not something they should trouble themselves with.  This is a real concern, not only where scripture is concerned but also the traditions of the Church, which have been similarly banished to the side; again, perceived as being the domain of the elite.
Yet the Word of God contains riches for all people.  And this is why we must be encouraged to rediscover it!
Today's average person is so used to being spoon-fed all that they need.  We sit in front of our big black boxes and think that it gives us all the information we need to go about our daily lives.  It has all of the answers.  It is as if there is an Eastenders or Hollyoaks solution to life's troubling questions.
Yet I don't know of anyone on Eastenders or Hollyoaks who is prepared to die on a Cross so that everyone else may live forever!
We have become a society of lazy Catholic people.  The majority no longer seem to be willing to immerse themselves in their faith; to study God's Word and discover that it can help them in their day-to-day living.
We seem content to leave the work to our parish priest on a Sunday so that we don't ever have to pick up a Bible.  Some may say 'I get my scriptural fix on Sunday mornings, that's more than enough!'  But is it enough?
Scripture is not just some old tale you pick up any time you feel like it.  It is a recording of events that have already changed your life!  It is God speaking to you, to me, to the whole of His creation!  It is truly the Word of God and it has ALL the answers!
Our faith cannot be confined to a quick jaunt down to Sunday Mass each week.  It has to be stretched out and exercised with a desire to immerse oneself in God's own Word.  Only then will the real beauty of our faith become clear.  Only then will we start to realise the importance of the Mass, the role of the Church, the essential nature of the Sacraments, and of course fully appreciate the way we are expected to live our life in accordance with God's Will. 
Immerse yourself in it, study it, read what others say about it, mull it over in your mind.  The riches will be abundant.  And never be afraid to encourage your children to do the same. 
'Not by bread alone do we live, but by every Word from the mouth of God.'
Categories: Bible, Catholic, Church, Faith, Learn the Catholic Faith, Scripture, Word of God
/