Shopping Cart
Your Cart is Empty
There was an error with PayPal
Click here to try again
Thank you for your business!
You should be receiving an order confirmation from Paypal shortly.
Exit Shopping Cart
Calling Scotland's 841,000 Catholics to unite as one voice
| | |
| --- | --- |
| Posted on March 13, 2014 at 8:35 AM | |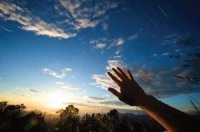 Today's Gospel (Matthew 7:7-12):
'Jesus said to his disciples, 'Ask, and it will be given to you; search, and you will find; knock, and the door will be opened to you.  For the one who asks always receives; the one who searches always finds; the one who knocks will always have the door opened to him. Is there a man among you who would hand his son a stone when he asked for bread?  Or would hand him a snake when he asked for a fish?  If you, then, who are evil, know how to give your children what is good, how much more will your Father in heaven give good things to those who ask him!
'So always treat others as you would like them to treat you; that is the meaning of the Law and the Prophets.''
What is at the root of this Gospel passage?  What do you think Jesus is getting at? 
Looking at it very simplistically I would say that he wants us to acknowledge God.  Yes, we then need to consider how we develop a relationship with God, how we surrender to Him, how we best serve Him and so on.  But first and foremost, we are called to acknowledge Him.  He did, after all, create us and create this beautiful world for us.  Surely that deserves some kind of recognition?? 
As human beings we are always striving for better things, to improve on things; whether it is our knowledge, our looks, our wealth, or our happiness.  We are always trying to be better and to improve our quality of life.  Have you ever asked the question why?  And have you considered that people very rarely tend to settle for what they have; instead they continue to try and improve all the time.  It seems to be inherent in our nature that we never quite settle for what we have.  Even though some of us may be content with certain elements in our lives, we are rarely content with everything.
The heart and soul of our being, I would suggest, is always striving for something greater and better.  That 'something' is God.  Our innermost being desires to return to where it came from and it will never be satisfied until that moment when it is once again in the presence of the Creator.  That is what we are constantly striving for.  Our ultimate satisfaction is in God. 
We can try to ignore this longing, and we can even pro-actively fight against it, but we can never destroy it.  It is part of our make-up.  We must, therefore, look long and hard at ourselves and consider whether we can ever succeed in living without recognising God when our very being insists on being united with Him.  Ignoring Him will not make Him go away.  Yet recognising Him and putting our complete faith in Him, as Jesus suggests in the Gospel, will provide us with 'good things'.
What 'good things' can God give you today?
Categories: Bible, Dwelling on the Word of God, Faith, God, Gospel, Gospel Reflection, Heaven, Jesus, Life, Love, Prayer, Scripture, Word of God
/