Shopping Cart
Your Cart is Empty
There was an error with PayPal
Click here to try again
Thank you for your business!
You should be receiving an order confirmation from Paypal shortly.
Exit Shopping Cart
Calling Scotland's 841,000 Catholics to unite as one voice
| | |
| --- | --- |
| Posted on December 10, 2013 at 11:55 AM | |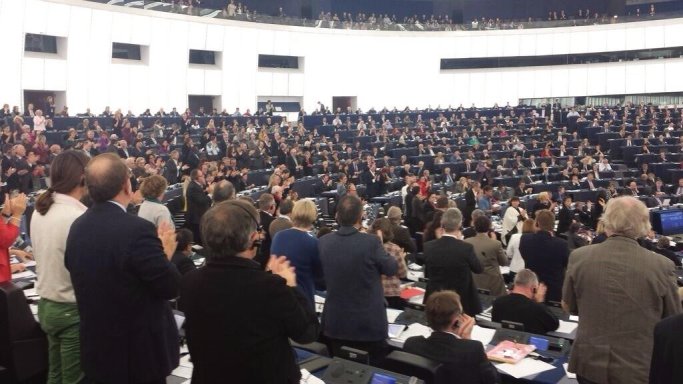 MEP's appplaud the result
The controversial report put forward by Portuguese MEP Edite Estrela was rejected today in the European Parliament.
The report, titled 'Sexual and Reproductive Health and Rights', was sent back to committee in October (read our report here) after it was narrowly defeated in Parliament.  The committee then returned the report to Parliament for another vote today where it was defeated by 334 votes to 327.  A small, but hugely significant, margin.
Part of the chamber stood to applaud the result while the other slightly smaller part booed.  Ms Estrela said that "hypocrisy has prevailed over the rights of women" and suggested that "the voters of Europe won't forget this shameful vote."
In response, a fellow Portuguese MEP said: "A true democrat is pleased to win and equally accepts defeat.  I cannot accept that Edite Estrela should say that, because she has lost a vote, she should insult us and call us hypocrites.  What Ms Estrela says brings shame upon her."
To see such passion in our European Parliament on this crucial matter - the matter of life - is encouraging.  Abortion has, in recent times, started to become a real hot topic again across the globe after years of unnecessary killing of young, innocent lives.  And despite the mainstream media's persistent shying away from the issue, governments are slowly being forced to take notice of a growing and increasingly active pro-life movement across the globe.
Had the Estrela Report been approved it would have been a European Parliament rubber stamp defining abortion as a human right.  The dangers of this are obvious.  Women could claim, at any time during pregnancy and for any reason, their right to abort their baby.  Any laws protecting life in the womb could, over time, become obsolete set against the human right to abort.  And the right to conscientious objection by pro-life medical staff would be scrapped.  
This vote for life must be applauded and gratitude expressed to those MEP's who voted against the Estrela report.  Praise must also go to the many people across Europe who encouraged their MEP's to vote against the report and also those organisations supporting the campaign to vote 'no'.
There is always more work to be done and the fight to end abortion has a long, long way to go.  But the positive signs are there.  This result, alongside the closure of hundreds of abortion clinics across the United States and the amassing of 1.8 million signatures for the European 'One of Us' pro-life campaign, only goes to show that life is fighting back!  Let's keep saying 'yes' to life and 'no' to death and keep up the prayers! 
Categories: Abortion, Abortion, pro-life, Children, EU, European Parliament, European Union, Politics, Pro-Choice, Pro-Life, Sex, Women
/