Shopping Cart
Your Cart is Empty
There was an error with PayPal
Click here to try again
Thank you for your business!
You should be receiving an order confirmation from Paypal shortly.
Exit Shopping Cart
Calling Scotland's 841,000 Catholics to unite as one voice
| | |
| --- | --- |
| Posted on October 25, 2013 at 8:10 AM | |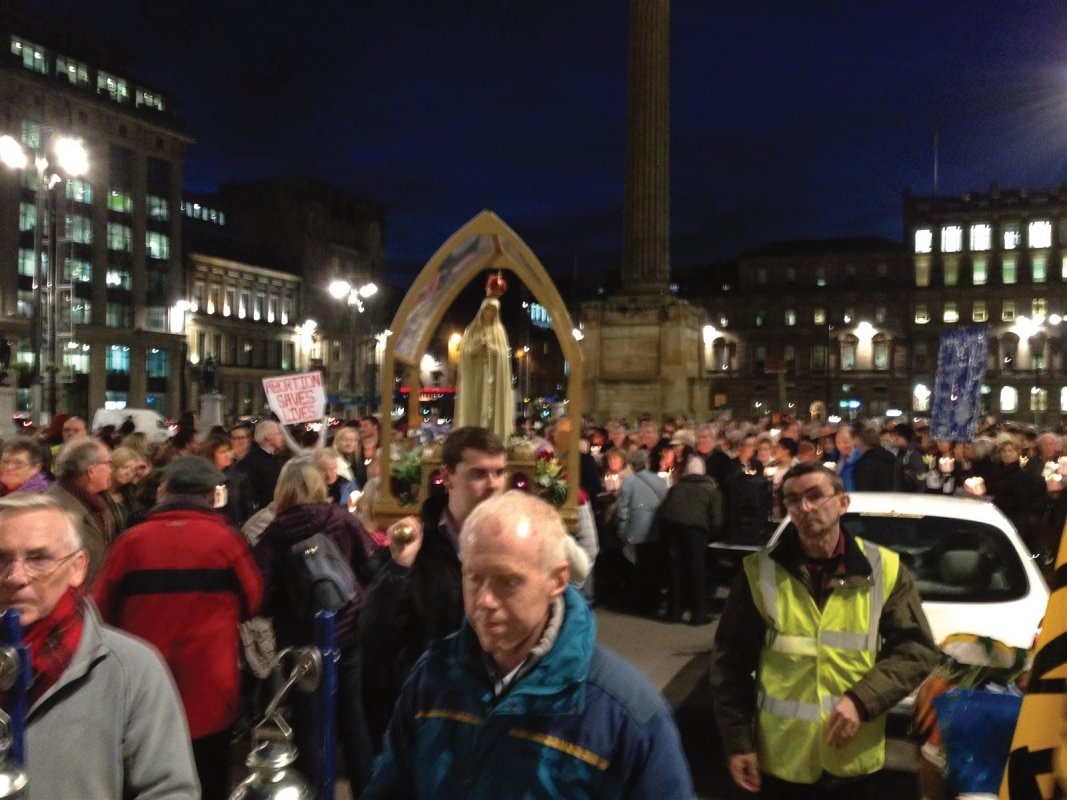 Our Lady's statue is carried through Glasgow
Last night the centre of Glasgow witnessed the joy and splendour of life, wrapped up in a beautiful Rosary, dignified procession, and passionate celebration of the Mass.
It was pro-life night and the people of Glasgow took to the streets to spread the Good News of life.  Around 300 people were present in George Square and it was evident that numbers were slightly up on last year which was encouraging. 
The Rosary, led by Father John Keenan of the University of Glasgow and St Patrick's, Anderston, was a beautiful show of devotion and honour to Our Blessed Mother whose statue, held ably aloft by two young volunteers, looked lovingly over the crowd as it prayed.  Candles lit the faces of pro-life people from around the country, as they held their Rosary beads firmly in their hands.  There were babies, schoolchildren, priests, nuns, people with disabilities, people with special needs, the elderly, and, of course, the youth element which seems to be growing at a pace in Scotland these days.  I mention all of these groups individually not to differentiate them from the normal because that is not the case.  I mention them to highlight the various characters who make up the pro-life movement, many of whom may not be here had their parents not been pro-life.  Thank God for that grace that they are given the opportunity to live, an opportunity we have ALL experienced.  We are all alive today because we were not aborted.  Yet many are not afforded such an opportunity in today's culture of death.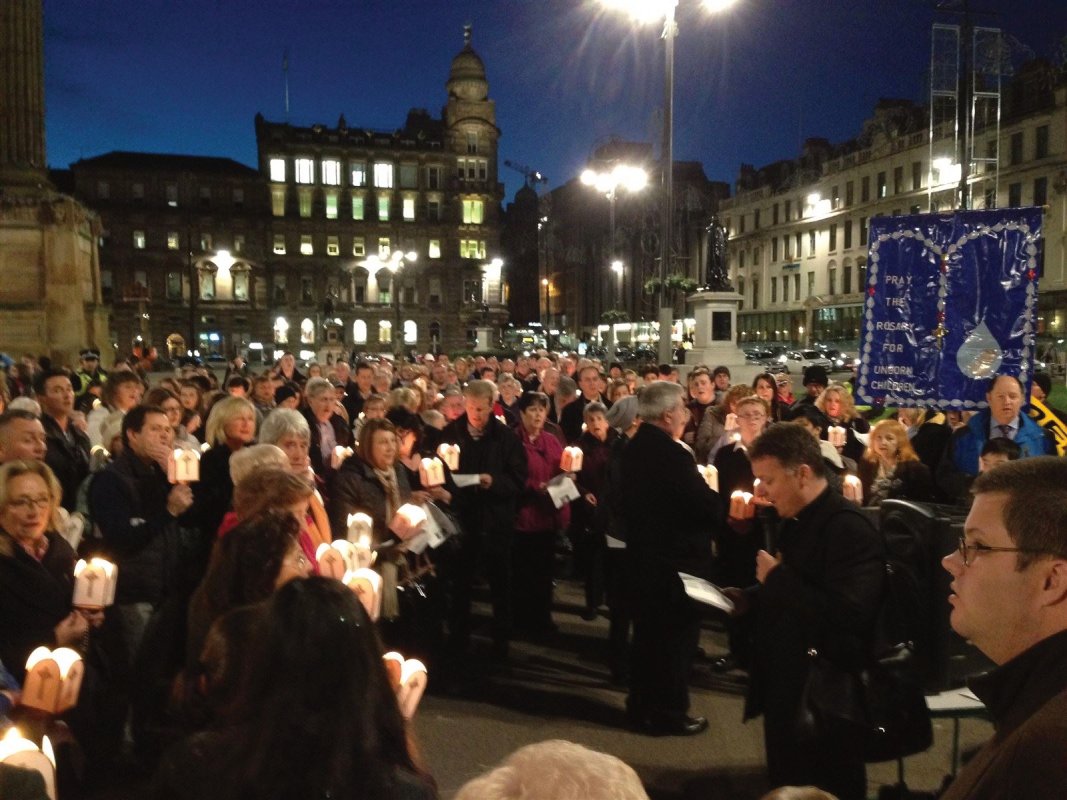 Father Keenan leads the Rosary 
As we were told prior to the Rosary, 200,000 babies have been aborted in the last year since the last such event in 2012.  In one day 500 babies are aborted in the UK.  Do we really take in these figures?  I mean, do we REALLY take them in?  Some people argue that this is justified in the name of women's rights.  Yet these people disregard the single most natural, amazing and precious gift a woman can have and give....another life!   
Either side of the Rosary there was beautiful singing of hymns and during the Rosary the Fatima 'Ave' was belted out with real passion and fervour.  The group then proceeded to walk gently and reverently to the Cathedral on Clyde Street, blazing a trail of fire behind Our Lady's statue at one point spanning the full length of Glassford Street.  It was a beautiful time, an opportunity to reflect on what we were really doing here.  Praying for an end to abortion.  Praying for all affected by this sad and barbaric attack on defenceless children and vulnerable women.  Praying for the fathers, many of whom don't have a say.  Praying for the grandparents, aunts, and uncles, for cousins and close family friends.  Praying for the medics, the doctors and midwives who carry out abortions on a daily basis.  Praying for those who are pro-abortion for them to be enlightened to the beauty and splendour of new life, and to trust in God's providence.  Praying for our governors that they may be similarly enlightened.  And, of course, praying for the pro-life movement, that it will continue to stand for life and never tire of fervently praying for the innocents.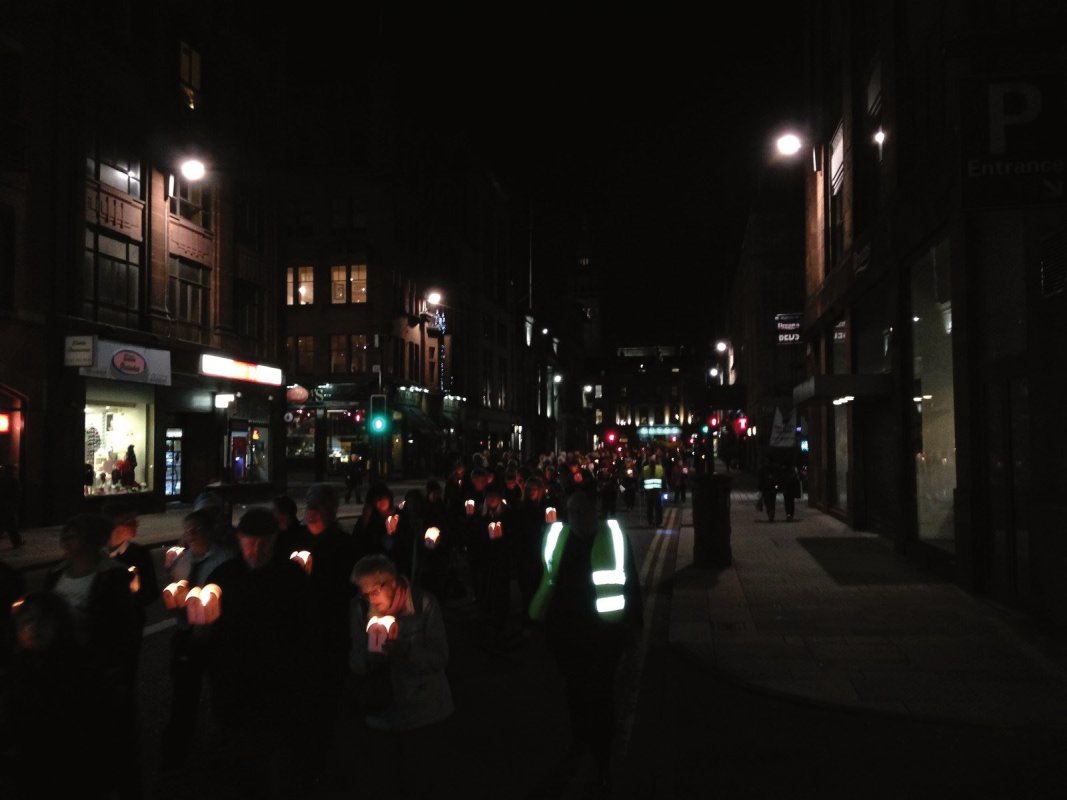 The pro-life movement blaze a trail through Glasgow 

 

At the Cathedral, the gathered faithful were treated to a beautiful Mass, interspersed with beautiful music and singing from the St Ninian's choir, and a roof-raising homily by Father Keenan.  It was around 15-20 minutes long and I have to admit that I hung on to EVERY word.  The Reading and Gospel of the day didn't perhaps, at first glance, appear to be a fit for the occasion.  But God never lets us down and Father Keenan made sure we were left in no doubt that these readings were perfect for the pro-life cause.

 

In his letter to the Romans St Paul talks about putting 'your bodies at the service of vice and immorality' and how we must instead 'put them at the service of righteousness for sanctification.'  In George Square a small group of pro-abortion protesters continually chanted about "my body, my choice".  There were a few other expletives in among these chants but the general theme was one of 'my body, my choice'.  As Father Keenan suggested, it is always "me, me, me".

So what is our view on the other side of the fence?  What is the pro-life stance?  Father Keenan pointed us in the direction of Mary suggesting that Mary holds the key to what we must do.  When confronted by the Angel Gabriel and told that she would conceive a child, the Son of God, Mary said, "Let it be done to me according to your word".  Mary did not selfishly state that it was her body and reject the child she was suddenly to bear!  Mary accepted God's Will and God's Divine Plan.  It was an act of complete faith.  It was true love.  It was Mary saying "My body, for you".  Not 'my body, my choice' but 'my body, for you'!

 

And this is the Christian message.  We don't live for ourselves.  We live for God and for others!  Everyone else comes before us.  That is the way we must live and that is why we are pro-life.  God's Will grants mothers the grace to bear His children.  We must have the faith of Mary and bear these children, and present them back to God, by raising them to glorify Him and to put Him and others first.  What an amazing world we would live in if everybody did this!!  What love!! 

 

Father Keenan then turned to the Gospel and spoke about how Jesus wished the earthly fire were "blazing already"!  The witness last night, out on the busy streets of Glasgow, was the fire.  That public witness is the blaze Jesus is speaking of.  Witnessing to the faith on the streets!  As Father Keenan suggested, "many people are pro-life on the brain" but they don't do anything about it.  That isn't good enough!  Jesus wants us to get out there to witness for these little ones!  What good is keeping the pro-life cause to ourselves?  It is no good!  Nothing will change if we keep it to ourselves. 

 

Father Keenan challenged everyone present in the Cathedral to bring another person with them next year.  That way our numbers will double.  That is the challenge to the pro-life people of Scotland, particularly those in the Glasgow area.  The recent census in 2011 confirmed that there are around 841,000 Catholic people in Scotland (an increase on the 2001 census), with the vast majority of them in the Glasgow, Lanarkshire and Inverclyde areas!!  Is 300 people representative of this huge number?  I think not.  It's hugely disappointing.  So the challenge is being thrown down right here, right now.  The same event will be taking place at the same time next year and we want to AT LEAST double our numbers.  This isn't just about Catholic people marching through the streets of our city.  This is about life.  It is about affording little babies the same opportunity we are all so blessed to have received, the opportunity to live.     

 

 

 

Categories: Abortion, Abortion, pro-life, Abstinence, Apologetics, Bible, Catholic, Catholic Education, Cerebral Palsy, Christian, Christian Unity, Christianity, Church, Commandments, Devotion, Disability, Down's Syndrome, Euthanasia, Evangelisation, Events, Faith, Glasgow, God, Gospel, Gospel Reflection, Jesus, Life, Love, Mary, Mass, Mother of God, News, Our Lady, Peace, Prayer, Pro-Choice, Pro-Life, Rosary, Saints, Scotland, Sex, Virgin Mary, Word of God, Year of Faith, Youth

0

/