Shopping Cart
Your Cart is Empty
There was an error with PayPal
Click here to try again
Thank you for your business!
You should be receiving an order confirmation from Paypal shortly.
Exit Shopping Cart
Calling Scotland's 841,000 Catholics to unite as one voice
| | |
| --- | --- |
| Posted on April 6, 2017 at 4:44 AM | |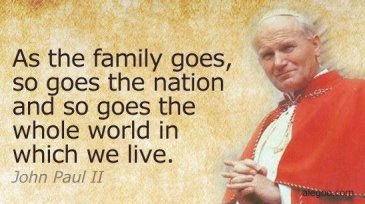 The prophetic words of John Paul II
It's a real wake up call. Jesus is losing his influence in Europe. Christianity is dying out.
We've known for some time now that Christianity is on the decline in Europe, but recent data released by the
Pew Research Center
reveals just how stark that decline is.
Indeed, it is the only decline in any religion in any part of the world between 2010 and 2015. But for Christianity's decline in Europe, every religion across all continents witnessed an increase in numbers, including Christianity itself, which is growing rapidly in Sub-Saharan Africa and Latin America. Islam is also growing rapidly in Sub-Saharan Africa as well as Asia Pacific.
But it is in Europe where the real story lies. An astonishing drop of 5.6 million Christian births to deaths has seen the religion plummet across the continent. There are many reasons for this, not least a much greater prevalence of lukewarm Christianity and an increasingly secular culture.
Across the world Islam will continue to grow in greater numbers than Christianity, with a fertility rate of 2.9 compared to 2.6 for Christians. Islam also has the youngest median age in terms of adherents to the faith, at just 24. Hindus are at 27 with Christians at 30.
We have known for some time that Islam would eventually catch up with Christianity in terms of numbers, and within twenty years births to women of Islamic faith will outnumber Christian births. But it is in Europe where there must be deep concern for Christians. Why is the faith struggling so much in that continent?
For European Christians there is undoubtedly a crisis when it comes to the family. Europe's secular influence, with its liberal laws around contraception, abortion and marriage, has chipped away at the hearts and minds of the faithful, giving them an excuse to focus on the self and to set aside the call of Christ to first and foremost love God and neighbour. Families now come in all different shapes and sizes; their constitution often based on the ideological whim of selfish individuals. The idea that a young man and a young woman can look lovingly into one another's eyes, establish a firm and beautiful friendship that leads to the great sacrament of marriage and the bearing of fruit through the birth of new life is dumbed down by the culture of want. And we have all bought into it. It is a sad reflection on our lack of faith.
As Pope John Paul II said, "As the family goes, so goes the nation and so goes the whole world in which we live."
We Christians have let down the family, and Europe is the nation Pope John Paul refers to. It is going and if we don't reclaim it the world will eventually go with it.

Europe, to coin a famous song, is most definitely losing its religion and losing Christ. If it is to recover, radical change in attitude is required. Starting with the family.
Categories: Abortion, Assisted Dying, Assisted Suicide, Catholic, Children, Christian, Christianity, Contraception, Divorce, Europe, Euthanasia, Faith, Family, Islam, Jesus, Life, Marriage, News, Pro-Choice, Pro-Life, Relativism, Religion
/