Shopping Cart
Your Cart is Empty
There was an error with PayPal
Click here to try again
Thank you for your business!
You should be receiving an order confirmation from Paypal shortly.
Exit Shopping Cart
Calling Scotland's 841,000 Catholics to unite as one voice
| | |
| --- | --- |
| Posted on August 18, 2016 at 2:33 PM | |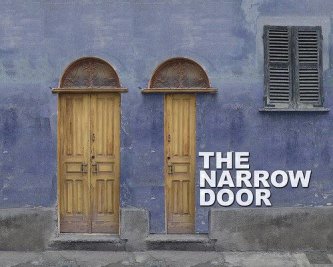 We must aim for the narrow door
'Through towns and villages Jesus went teaching, making his way to Jerusalem. Someone said to him "Sir, will there be only a few saved?" He said to them, "Try your best to enter by the narrow door, because, I tell you, may will try to enter and will not succeed"'
This year the pass rate for Higher Grades in Scotland was 77.2%. The chances of winning the UK National Lottery is 1 in 45 million. As humans, we love statistics and take comfort in them. They help us feel like we know where we stand, what the likelihood is that we will succeed and fail.  In today's Gospel passage Jesus is asked a seemingly straightforward question: what is the success rate of people getting to Heaven?  Wouldn't it be great to know the answer to that question?  Knowing the exact proportion of people who 'make it' might just give us the comfort we need to know that our future rests with God.  But the Lord, in His infinite wisdom, does not give an easy answer to the question posed to him as he makes his way to Jerusalem. Instead he uses it as a training opportunity; his message seems to be that we should not compare ourselves with others, and that we should focus and strive for the Kingdom, aiming for the narrow door.  We may tremble at the seemingly harsh and sobering reply Jesus gives; and so perhaps we should.  But a healthy fear of the Lord is important and a great virtue. We can also take comfort in today's second reading:
'My son, when the Lord corrects you, do not treat it lightly; but do not get discouraged when He reprimands you. For the Lord trains the ones He loves and He punishes all those that He acknowledges as His sons"'
It would do no good for an athlete to know the statistical chances of obtaining a gold medal in his or her sport, but instead a good coach would push them hard to reach that top prize regardless of statistics. Similarly, we need the same push to win the greatest prize of all. We should not fall into despair and resign ourselves to being one of those locked out of the Kingdom, and we should not doubt God's unfathomable mercy. But neither should we grow complacent and lazily take our salvation for granted. Jesus shows us the narrow door. He is the way we must follow, bearing our crosses and sufferings as He did, using them to shape us into saints, and all for God's glory.
Categories: Bible, Catholic, Church, Dwelling on the Word of God, God, Heaven, Jesus, Scripture
/