Shopping Cart
Your Cart is Empty
There was an error with PayPal
Click here to try again
Thank you for your business!
You should be receiving an order confirmation from Paypal shortly.
Exit Shopping Cart
Calling Scotland's 841,000 Catholics to unite as one voice
| | |
| --- | --- |
| Posted on July 11, 2016 at 5:43 AM | |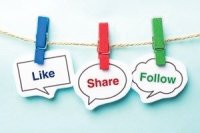 Do we define ourselves by 'likes' and 'follows'?
It's been quite a journey for social media over the last several years.  From meagre beginnings it has become the mainstay of human contact, the go-to means of communication.  It has, in many respects, been a revolution of seismic proportions and there are very few individuals who can say that they don't have a Facebook account or haven't at least been touched by its power.
And it's not only on a personal level that social media has heralded meteoric change in communications.  It is perhaps now one of the biggest means of advertising for commerce and it has allowed countless charities and other organisations to promote their work and encourage people to donate or to simply take an interest in their activities.  And then there is the media.  Perhaps this sector has benefited most from the social media revolution, having access to millions of eyes with a few simple taps of a touchscreen.
But is it all sweetness and roses in this cyberland of 24/7, round-the-clock communication?  Is it a joyful and peaceful place where stories are shared and people find genuine happiness?  Is it making the world a better place? 
Whilst the social media experience of many people will have been a positive one, there are many more who have felt the full force of its darker, vitriolic side.  Take the recent case of Britney Mazzoncini from Glasgow.  At sixteen years of age she should have been in the throes of some of the happiest days of her life; finding her way in the world, making lots of solid friendships and enjoying life to the full.  Instead, her lifeless body lies awaiting burial; a victim of senseless online bullying via Facebook. 
Britney isn't the only victim of social media's darker side.  There have been many more.  And while it doesn't always end fatally, there are still serious consequences for people and, indeed, society as a whole.  For example, social media is a hotbed of narcissism; encouraging self-centredness and an increasingly desperate craving for peer admiration. 
Consider this: have you noticed how social media has become a means for many people to assess their own lives?  They use it to gauge their own popularity depending on how many Facebook 'likes' they can amass and how many 'retweets' or 'favourites' they can get on Twitter.  It seems to have become the go-to tool for many young people, particularly teenagers, to define the worth and meaning of their own lives.  One bad or distasteful comment and the chips can come crashing down.  One positive comment and the ego builds.  It is, in many respects, a rollercoaster ride of emotion; a potentially dangerous rollercoaster ride at that. 
Society has benefitted greatly from social media and many people use it sensibly and safely.  But social media has also created a significant amount of unrest in our world.  Why?  Because it is a very quick and reliable means of spreading hate.  In just a few short seconds I can tell a politician, a political party, a celebrity, a footballer or even the pope how much I hate them and I can even throw in a few expletives and some explicit content for good measure.  Now I am not going to do any of the above.  But sadly a growing number of people do, and do so on a regular basis.  Just this week I witnessed some horrifically vile abuse being levelled at the Conservative leadership candidate Andrea Leadsom.  All because she expressed an opinion.  She has now withdrawn from the leadership race because of the abuse. 
Ms Leadsom is just one of many people who have to endure vile abuse from the willing fingers of hate of a growing number on social media.  Is there a link between the recent break-up of British politics and the persistent hate levelled at politicians on social media?  Are people increasingly reluctant to get involved in politics and other high profile public roles for fear of abuse?  Sadly it is just too easy to spread hate, especially when you don't even have to face the person you are abusing, hiding behind the veil of miles of fibre optic cable and 4G strength telephone signals.
When we use social media we should always consider the person on the other side of our comment or opinion as being, first and foremost, a human being.  They are just like us in the sense that they too experience sadness and upset at being abused or ridiculed.   They too feel hurt and pain when they are called a fool and it is revealed to them that they are hated.  There is not one individual who is exempt from experiencing that deep, hurtful, hollow feeling when another fellow human being puts them down.  We must remember that our comments and our opinions have the potential to destroy a person's life.  And that is no exaggeration. 
We, as a society, need to take much greater care when we use social media.  We are one family and no family member should ever experience the systematic hate and abuse from a brother or sister that is now part of everyday life on Facebook and Twitter.  If our difference is political then we need to engage with those whom we disagree with to try to advance the common good of society together.  If our difference is religious we need to engage with our detractors in order to reach the ultimate goal of objective truth.  If our difference is to do with a sensitively personal matter such as our sexuality, we need to appreciate individual differences of opinion and accept one another as a brother or a sister whilst acknowledging one another's right to disagree with our own view.
Social media is in desperate need of a lesson in polite, tolerant engagement.  If we really do want a society of peace where love rules and hate is crushed then we need to begin by building a culture of peace on social media.  Starting today.
Categories: Abuse, Facebook, Peace, Social Media, Twitter
/