Shopping Cart
Your Cart is Empty
There was an error with PayPal
Click here to try again
Thank you for your business!
You should be receiving an order confirmation from Paypal shortly.
Exit Shopping Cart
Calling Scotland's 841,000 Catholics to unite as one voice
| | |
| --- | --- |
| Posted on July 8, 2016 at 10:10 AM | |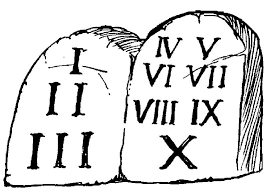 The Ten Commandments were written on two tablets of stone
Sunday's Gospel (Luke 10:25-37):
'There was a lawyer who, to disconcert Jesus, stood up and said to him, 'Master, what must I do to inherit eternal life?' He said to him, 'What is written in the Law? What do you read there?' He replied, 'You must love the Lord your God with all your heart, with all your soul, with all your strength, and with all your mind, and your neighbour as yourself.' 'You have answered right,' said Jesus 'do this and life is yours.'
But the man was anxious to justify himself and said to Jesus, 'And who is my neighbour?' Jesus replied, 'A man was once on his way down from Jerusalem to Jericho and fell into the hands of brigands; they took all he had, beat him and then made off, leaving him half dead. Now a priest happened to be travelling down the same road, but when he saw the man, he passed by on the other side. In the same way a Levite who came to the place saw him, and passed by on the other side. But a Samaritan traveller who came upon him was moved with compassion when he saw him. He went up and bandaged his wounds, pouring oil and wine on them. He then lifted him on to his own mount, carried him to the inn and looked after him. Next day, he took out two denarii and handed them to the innkeeper. "Look after him," he said "and on my way back I will make good any extra expense you have." Which of these three, do you think, proved himself a neighbour to the man who fell into the brigands' hands?' 'The one who took pity on him' he replied. Jesus said to him, 'Go, and do the same yourself.''
Eternal life in Heaven is where we all want to be.  And even for those who do not believe, the idea of living in comfortable and joyful surroundings forever is a fantastic thought! 
But how do we get there?  Well, Jesus gives us two very straightforward commands.  He tells us that we must love God with everything we've got and we must also love our neighbour.  Looks simple on paper doesn't it?  And in a way it is.  It is, however, important to avoid oversimplifying these commandments in order to suit our own busy lifestyles and agendas.  For example, we can't simply state that we love God and we love all other people and never follow this up with words and actions to support our claim.  If we are going to follow Jesus' commands we need to act upon them, and act with conviction; a conviction that tells the world: 'this guy really does love God and he really does love other people!'
Jesus' commandments are a perfect summing up of the Ten Commandments (or Decalogue) given to Moses by God.  They are not a watering down of the Ten Commandments and they are certainly not an attempt to abolish and replace the Ten Commandments.  What Jesus does is present to us the Ten Commandments in a new way in order to aid our understanding of them.  He invites us to rediscover the beauty and truth of God's perfect law.  It is worth remembering that the first three Commandments concern love of God and the other seven concern love of neighbour, hence Christ's summing up of them by referring to love of God and love of neighbour.  This is also why God presented the Commandments to Moses using two tablets of stone rather than one; so as to distinguish between the call to love God and the call to love our neighbour.
In order to obtain eternal life our words and actions must be in keeping with the Ten Commandments.  We must respect God's clear instructions and, in a spirit of humility and love, encourage others to do the same.
The Ten Commandments:
I am the LORD your God:
you shall not have
strange Gods before me.
You shall not take
the name of the LORD your God in vain.
Remember to keep holy the LORD'S Day.
Honour your father and your mother.
You shall not kill.
You shall not commit adultery.
You shall not steal.
You shall not bear false witness
against your neighbour.
You shall not covet
your neighbour's wife.
You shall not covet
your neighbour's goods. 
Categories: Bible, Catholic, Church, Commandments, Dwelling on the Word of God, God, Gospel, Gospel Reflection, Heaven, Jesus, Law, Life, Scripture, Word of God
/