Shopping Cart
Your Cart is Empty
There was an error with PayPal
Click here to try again
Thank you for your business!
You should be receiving an order confirmation from Paypal shortly.
Exit Shopping Cart
Calling Scotland's 841,000 Catholics to unite as one voice
| | |
| --- | --- |
| Posted on April 14, 2016 at 11:17 AM | |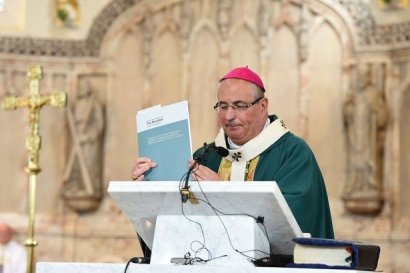 The Church will implement all recommendations
from the McLellan Report

Peter Kearney, Director of the Scottish Catholic Media Office, has called for fairness by the media in reporting the issue of child abuse in the Catholic Church. 
Mr Kearney suggests that official figures show that the problem in the Church is tiny compared to the problem as a whole across Scotland.  Indeed, it is believed that only 0.3% of abuse complaints over the past ten years were against Catholic clergy and volunteers.  Yet, despite this figure, the media appear determined to castigate the Church as offender in chief when it comes to the awful reality of child abuse.
As Peter Kearney says, the "robust attention" of the media around this issue is to be "welcomed" as it "serves to strengthen the resolve of those working within the Church to be as transparent and accountable as possible.  Survivors deserve that."  But there appears to be a disproportionate focus on the Church, especially when you consider the figures quoted.
As we have said before, the Catholic Church in Scotland should now be the safest place for children given the work it is doing to ensure that deplorable mistakes from the past are not repeated.  Following the McLellan Commission's report last year the Church accepted all eight recommendations of the Commission in relation to the safeguarding of children and vulnerable persons and expects all eight to be fully implemented by the end of 2017.   
Perhaps one of the biggest moves by the Church has been to release an annual audit of all abuse allegations against its clergy and volunteers.  This is made public thus ensuring transparency and easy access to the figures for the media and the general public, all of whom have a vested interest in this issue.  Sadly, such transparency is not forthcoming from other churches in Scotland.  Indeed, no other organised church in Scotland releases data in this way.  And they are not alone.  The NHS, Police Scotland, local authorities and national youth and voluntary groups have thus far failed to step up to the plate and release audits of abuse allegations.
As Peter Kearney says, "All abuse is utterly wrong and must always be condemned", but "narratives suggesting the Catholic Church has a disproportionate problem and wider society hasn't, is a terrible deception.  Survivors deserve better." 
Categories: Abuse, Catholic, Children, Church, Crime, Journalism, Media, News, Safeguarding, Scotland, Suffering
/