Shopping Cart
Your Cart is Empty
There was an error with PayPal
Click here to try again
Thank you for your business!
You should be receiving an order confirmation from Paypal shortly.
Exit Shopping Cart
Calling Scotland's 841,000 Catholics to unite as one voice
| | |
| --- | --- |
| Posted on March 29, 2016 at 8:58 AM | |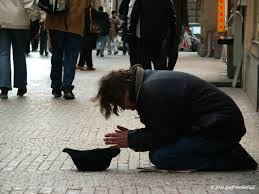 The posters erected around Nottingham City Centre urging people not to give to beggars is quite concerning.  Is poverty so abhorrent that it is to be brushed out altogether from our streets?  Is it really appropriate to punish the poor and homeless even more by encouraging the public to refrain from giving them a few pounds that we are able to spare?  One of the posters features a man smoking and urges people not to "watch your money go up in smoke".
It would be fair to say that there may be some beggars who are not necessarily homeless or financially unsound.  Indeed, many of them may have no need whatsoever to beg on the streets.  But is it fair to encourage a blanket ban on giving to the poor in order to deprive the fraudsters?
The governors at Nottingham City Council clearly feel the need to combat what they term "aggressive" begging in their city.  True, it isn't pleasant if a beggar harasses you to hand over your hard earned cash.  But is this really our experience when we walk through our city streets?  Are they really so aggressive that we feel threatened?  Or is it the case that we simply cannot be bothered with the inconvenience as we go about our daily business?  Sure, maybe it is inconvenient for some.  But is it as inconvenient as having to sit on a cold, hard concrete surface for hours at a time?  Is it as inconvenient as having to beg other human beings for assistance just so that you can buy some food to keep you going?  Is it as inconvenient as having to find a suitable place beneath a motorway bridge or a quiet lane to rest up for the night?  Is it as inconvenient as having to experience the stare of hate as people look down at you with repulsion?  The answer to all of these questions is a resounding no.
Sure, nobody should need to put up with aggression from anyone as they go about their daily routine.  But we must be careful not to demonise those who really are in need of our generosity. 
Categories: Charity, Life, Love, News, Poverty
/