Shopping Cart
Your Cart is Empty
There was an error with PayPal
Click here to try again
Thank you for your business!
You should be receiving an order confirmation from Paypal shortly.
Exit Shopping Cart
Calling Scotland's 841,000 Catholics to unite as one voice
| | |
| --- | --- |
| Posted on March 21, 2016 at 10:30 AM | |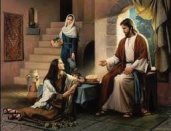 Today's Gospel: (John 12: 1-11)
'Six days before the Passover, Jesus went to Bethany, where Lazarus was, whom he had raised from the dead. They gave a dinner for him there; Martha waited on them and Lazarus was among those at table. Mary brought in a pound of very costly ointment, pure nard, and with it anointed the feet of Jesus, wiping them with her hair; the house was full of the scent of the ointment. Then Judas Iscariot – one of his disciples, the man who was to betray him – said, 'Why wasn't this ointment sold for three hundred denarii, and the money given to the poor?' He said this, not because he cared about the poor, but because he was a thief; he was in charge of the common fund and used to help himself to the contributions. So Jesus said, 'Leave her alone; she had to keep this scent for the day of my burial. You have the poor with you always, you will not always have me.'
Meanwhile a large number of Jews heard that he was there and came not only on account of Jesus but also to see Lazarus whom he had raised from the dead. Then the chief priests decided to kill Lazarus as well, since it was on his account that many of the Jews were leaving them and believing in Jesus.'
It's hard to imagine what went through Jesus' mind as he sat at table in the home of his friend Lazarus.  He was just days from that most horrific persecution, when his detractors would finally have their wicked way with him and he would be hung on a cross and left to die.  Yet here he is, sitting with his friend while the busy Martha scurries about waiting on them, and the more relaxed Mary pours an expensive fragrance over his feet.
The question often arises: are you a Martha or are you a Mary?  Would you be too busy rushing around to appreciate the King in your presence, or would you recognise him immediately and desire to be at his side?  Martha's role in this episode is not without purpose.  Her waiting on the Lord is a noble act and one deserving of praise.  Mary's actions are quite different.  There is something quite beautiful about the simplicity of Mary making a beeline for Jesus with the jar of expensive ointment.  Her focus is not so much to make everything perfect for Jesus as seems to be the case with Martha.  Rather, Mary's focus is to simply be by his side and spoil him with gifts. 
Mary simply wanted to be close to Jesus and to show him how much she loved him.  Martha undoubtedly loved Jesus too and she spent considerable effort in order to show this love.  But she didn't get close enough to him.  Perhaps she kept what she thought was a 'respectful' distance, only periodically getting close in order to serve him his meal.  But Jesus doesn't just want us to flit in and out of his life.  He wants something more concrete.  He wants the closeness shown by Mary.  If we are busy running around we perhaps forget the most important thing when it comes to our faith.  That is, being close to Jesus.  There is no need for a respectful distance.  While Jesus is a King, he is a King with a difference.  Unlike the many Kings and Queens of our world, Jesus does not care for pomp and ceremony in order for his people to get close to him.  He is accessible 24/7 and he wants all people to come to him, from the lowest of the low to the greatest.  We are all his children.
This Holy Week, think about your relationship with Jesus and how you can develop it for the better.  Don't get too caught up in the chores of the day at the expense of spending some time with Jesus, and be careful not to fall into the trap of thinking that Jesus isn't accessible to you.  He is right there by your side, right now!  So stop and talk to him.  Tell him what you think of him; tell him all your joys as well as your troubles and difficulties.  And if you haven't been to Mass for a while, consider coming back to be in the presence of Jesus in the Eucharist, where he is truly present…. body, blood, soul and divinity. 
Jesus loves you more than anyone else and he just wants a little love back.  So give him it.  Be more Mary.
Categories: Bible, Catholic, Church, Crucifixion, Devotion, Dwelling on the Word of God, Eucharist, Gospel, Gospel Reflection, Holy Communion, Jesus, Love, Scripture, Via Crucis, Way of the Cross, Word of God
/