Shopping Cart
Your Cart is Empty
There was an error with PayPal
Click here to try again
Thank you for your business!
You should be receiving an order confirmation from Paypal shortly.
Exit Shopping Cart
Calling Scotland's 841,000 Catholics to unite as one voice
| | |
| --- | --- |
| Posted on March 15, 2016 at 1:15 PM | |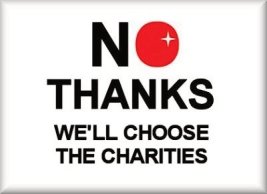 Comic Relief and its spin off Sport Relief certainly do get the nation's charitable juices flowing at this time of year.  It also causes much debate among Catholics as to whether or not we should be contributing to such a charity and allowing our schools and children to participate in the fund raising frenzy.  It seems that every year we face the same dilemma, yet the goalposts haven't moved for years.  Comic Relief (and Sport Relief) is a charity that gives great cause for concern when it comes to Catholic morality.
Firstly, Comic Relief is a bucket fund.  This means that the organisation's hierarchy decides how the money raised is spent, including which charitable organisations and causes it wishes to give cash to.  We can never be certain where our cash will go and this itself creates a significant degree of risk for those who would rather their donation went to a specific cause or charity.  Secondly, Comic Relief has been known to pass on funds to charities involved in the provision of abortion services.  Consider its grant of £374,694 to the International Planned Parenthood Federation (IPPF) in January 2011 for work in Swaziland, Ethiopia and Mozambique.  IPPF's own report confirmed that they had carried out over 1.5 million abortion procedures that same year.  Money donated to Comic Relief may very well have been used to provide those abortion services.
Another charity known for its abortion links is, rather ironically, Save the Children, which also promotes the use of contraception.  Did you know that Barnardo's recommends abortion provider Marie Stopes on its 'links' page and provides free condoms to youngsters, or that Childline promotes abortion as a 'legitimate choice'?  Did you know that the British Heart Foundation has assisted in raising £12m for stem cell research involving human embryos?  And did you know that UNICEF promotes chemical and surgical abortion and provides confidential sexual and reproductive health information and services to children from 10 years of age?
Thankfully there are a number of charities out there that are not bucket funds and so are clear on the charitable activities they undertake.  They are also in line with Catholic moral teaching. 
A list can be found here
.
Please do give serious consideration to all of the charities you donate to and explore precisely where your money will go and whether this compromises basic principles such as the right to life.  Remember, there are always charities out there that will not spend your money on contraception, abortion, the destruction of human embryos, and other immoral activities. 

Categories: Abortion, Catholic, Charity, Contraception, Events, Money, News, Pro-Choice, Pro-Life, United Kingdom
/