Shopping Cart
Your Cart is Empty
There was an error with PayPal
Click here to try again
Thank you for your business!
You should be receiving an order confirmation from Paypal shortly.
Exit Shopping Cart
Calling Scotland's 841,000 Catholics to unite as one voice
| | |
| --- | --- |
| Posted on March 11, 2016 at 12:03 PM | |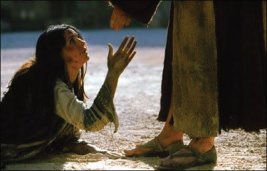 Sunday's Gospel (John 8:1-11):
'Jesus went to the Mount of Olives. At daybreak he appeared in the Temple again; and as all the people came to him, he sat down and began to teach them.
The scribes and Pharisees brought a woman along who had been caught committing adultery; and making her stand there in full view of everybody, they said to Jesus, 'Master, this woman was caught in the very act of committing adultery, and Moses has ordered us in the Law to condemn women like this to death by stoning. What have you to say?' They asked him this as a test, looking for something to use against him. But Jesus bent down and started writing on the ground with his finger. As they persisted with their question, he looked up and said, 'If there is one of you who has not sinned, let him be the first to throw a stone at her.' Then he bent down and wrote on the ground again. When they heard this they went away one by one, beginning with the eldest, until Jesus was left alone with the woman, who remained standing there. He looked up and said, 'Woman, where are they? Has no one condemned you?' 'No one, sir' she replied. 'Neither do I condemn you,' said Jesus 'go away, and do not sin any more.''
In the Jubilee Year of Mercy this particular passage of scripture stands out more than most.  It is a perfect example of the new world order that Jesus seeks to achieve.  It is a world of mercy, where no sin is incapable of forgiveness.  It is a world where hate, grudges, complaints and criticism reign no more. 
What Jesus wrote in the sand is a mystery.  But his message is abundantly clear.  We must be careful not to judge and condemn the goodness or otherwise of people when we ourselves are in a sinful state.  If we are aware of someone acting contrary to the Gospel we are called to be like Jesus and do two things.  First, we are called to show kindness, mercy and compassion and to put our arm around the person to show them that they are loved.  Second, we are called to encourage them to seek the forgiveness of God, to live in accordance with the Gospel, and to refrain from committing sin again. 
This is precisely how things are played out when we go to Confession.  Jesus welcomes us, puts his loving arms around us and forgives our sins.  He then asks us to go and sin no more.  And while we must take Jesus' call to refrain from further sin very seriously, he understands our weaknesses and the difficulties and struggles we experience in our world.  That is why he welcomes us again and again in Confession.  He never tires of pouring out his forgiveness.  He just needs us to be willing to make the effort to go to him. 
Categories: Adultery, Bible, Catholic, Church, Confession, Dwelling on the Word of God, Forgiveness, God, Gospel, Gospel Reflection, Jesus, Love, Mercy, Reconciliation, Scripture, Sin, Truth, Word of God
/