Shopping Cart
Your Cart is Empty
There was an error with PayPal
Click here to try again
Thank you for your business!
You should be receiving an order confirmation from Paypal shortly.
Exit Shopping Cart
Calling Scotland's 841,000 Catholics to unite as one voice
| | |
| --- | --- |
| Posted on February 22, 2016 at 12:49 PM | |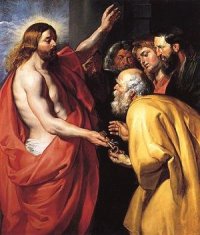 Today's Gospel (Matthew 16:13-19):
'When Jesus came to the region of Caesarea Philippi he put this question to his disciples, 'Who do people say the Son of Man is?' And they said, 'Some say he is John the Baptist, some Elijah, and others Jeremiah or one of the prophets.' 'But you,' he said 'who do you say I am?' Then Simon Peter spoke up, 'You are the Christ,' he said 'the Son of the living God.' Jesus replied, 'Simon son of Jonah, you are a happy man! Because it was not flesh and blood that revealed this to you but my Father in heaven. So I now say to you: You are Peter and on this rock I will build my Church. And the gates of the underworld can never hold out against it. I will give you the keys of the kingdom of heaven: whatever you bind on earth shall be considered bound in heaven; whatever you loose on earth shall be considered loosed in heaven.''
In 1870, Vatican I declared that this Gospel passage was clear biblical support for the primacy of Peter and successive popes.  The Council's interpretation touches on the following five points of doctrine:
The Magisterium built upon Peter is instituted by Jesus Christ;
Peter is given a unique role as chief teacher and ruler over the Church;
Peter is the visible head of the Church;
Peter's authority is passed on through successors; and
through Peter, Christ himself assures the infallible preservation of the gospel in the Church.
While it may sometimes be tough to be Catholic, especially in today's secular relativist world which seeks to discredit the Church at every turn, we still have every reason to be joyful.  Why?  Because this is a Church that was established by the saviour of the world, Jesus Christ!  Indeed, it is the only church established by Jesus Christ. 
But Jesus didn't leave it at that.  In addition to establishing a church he knew that the Church needed help from above to protect it from evil and to ensure its ongoing safety and wellbeing in protecting the gospel with which it is entrusted.  So he promised the Church that he will always be with it, ensuring that the gates of death, deception and destruction will never overcome it.  He then proceeds to give his close disciple Simon Peter the authority to make binding decisions with respect to the Church and gives him the keys to the kingdom of heaven.
Jesus, in just a few short sentences, establishes the Catholic Church, promises to sustain it, and even gives a mere mortal being the authority to be its chief teacher and chief administrator on earth.  So we can say with confidence that through the authority of Peter (often referred to as the 'Chair of Peter') and his successors, heaven governs the Church on earth. 
So be confident and joyful in your Church, and trust her authority always, for she is being guided by Christ who ensures her safe passage through time to that moment when he will come again on the clouds to be fully united with her.  And it is at that moment that our Lord will gather in his chosen people to take them to Paradise to be with him forever. 
The keys to Heaven are in the hands of the Church where they have been for the last 2000 years, from the moment Jesus entrusted them to Peter.  No matter how tough or testing it may sometimes feel to be part of the Catholic Church there is no denying that she is the surest way to Heaven and to Jesus.    
Categories: Bible, Catholic, Church, Dwelling on the Word of God, Faith, God, Gospel, Gospel Reflection, Heaven, Jesus, Joy, Magisterium, Papacy, Priesthood, Relativism, Rome, Salvation, Scripture, Secularism, Tradition, Truth, Vatican, Word of God
/