Shopping Cart
Your Cart is Empty
There was an error with PayPal
Click here to try again
Thank you for your business!
You should be receiving an order confirmation from Paypal shortly.
Exit Shopping Cart
Calling Scotland's 841,000 Catholics to unite as one voice
| | |
| --- | --- |
| Posted on February 19, 2016 at 6:56 AM | |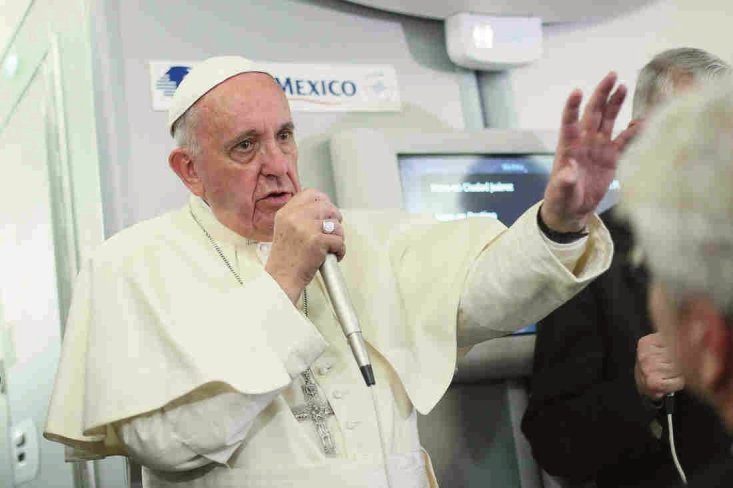 Pope Francis didn't just talk about Donald Trump's value as a Christian and contraception on his latest flight home to Rome.  There is so much more that the mainstream media has failed to cover.  So here it is....the stuff you probably haven't yet heard about:
Pope Francis on paedophilia in the Church and the part played by Pope Benedict XVI to eradicate it:
"First, a bishop who moves a priest to another parish when a case of pedophilia is discovered is a reckless [inconsciente] man and the best thing he can do is to present his resignation. Is that clear?
Cardinal Ratzinger deserves an applause. Yes, an applause for him. He had all of the documentation. He's a man who as the prefect of the Congregation for the Doctrine of the Faith had everything in his hands. He conducted all the investigations, and went on, went on, went on, until he couldn't go any further. But, if you remember, 10 days before the death of St. John Paul II, in that Via Crucis of Holy Friday, he said to the whole Church that it needed to clean up the dirt of the Church. And in the Pro-Eligendo Pontefice Mass, despite knowing that he was a candidate, he wasn't stupid, he didn't care to "make-up" his answer, he said exactly the same thing. He was the brave one who helped so many open this door. So, I want to remember him because sometimes we forget about this hidden works that were the foundations for "taking the lid off the pot."
And, the final thing I would like to say that it's a monstrosity, because a priest is consecrated to lead a child to God, and he eats him in a diabolical sacrifice. He destroys him."


Pope Francis on same-sex unions and adoption by same-sex couples:
"I think what the Church has always said about this. "
"On people of the same sex, I repeat what I said on the trip to Rio di Janeiro. It's in the Catechism of the Catholic Church."


Pope Francis on abortion:

"Abortion is not the lesser of two evils. It is a crime. It is to throw someone out in order to save another. That's what the Mafia does. It is a crime, an absolute evil.
Abortion is not a theological problem, it is a human problem, it is a medical problem. You kill one person to save another, in the best-case scenario. Or to live comfortably, no?  It's against the Hippocratic oaths doctors must take. It is an evil in and of itself, but it is not a religious evil in the beginning, no, it's a human evil. Then obviously, as with every human evil, each killing is condemned."


Pope Francis on the European Union:
"I like this idea of the re-foundation of the European Union, maybe it can be done, because Europe — I do not say is unique, but it has a force, a culture, a history that cannot be wasted, and we must do everything so that the European Union has the strength and also the inspiration to make it go forward. That's what I think."


Pope Francis on the reintegration into the Church of re-married persons:
"Integrating in the Church doesn't mean receiving Communion. I know married Catholics in a second union who go to church, who go to church once or twice a year and say I want communion, as if joining in Communion were an award. It's a work towards integration, all doors are open, but we cannot say, "from here on they can have Communion." This would be an injury also to marriage, to the couple, because it wouldn't allow them to proceed on this path of integration. And those two were happy. They used a very beautiful expression: we don't receive Eucharistic Communion, but we receive communion when we visit hospitals and in this and this and this. Their integration is that. If there is something more, the Lord will tell them, but it's a path, a road."

On Pope John Paull II's friendship with Ana Teresa Tymieniecka:
"In my own experience, including when I ask for advice, I would ask a collaborator, a friend, I also like to hear the opinion of a woman because they have such wealth. They look at things in a different way. I like to say that women are those who form life in their wombs — and this is a comparison I make — they have this charism of giving you things you can build with. A friendship with a woman is not a sin. [It's] a friendship. A romantic relationship with a woman who is not your wife, that is a sin. Understand?
But the Pope is a man. The Pope needs the input of women, too. And the Pope, too, has a heart that can have a healthy, holy friendship with a woman. There are saint-friends — Francis and Clare, Teresa and John of the Cross — don't be frightened. But women are still not considered so well; we have not understood the good that a woman do for the life of a priest and of the church in the sense of counsel, help of a healthy friendship."

And finally, what did the pope ask for in Guadalupe?
"I asked for the world, for peace, so many things. The poor thing ended up with her head like this (raises arms around head). I asked forgiveness, I asked that the Church grows healthy, I asked for the Mexican people. And another thing I asked a lot for: that priests to be true priests, and sisters true sisters, and bishops true bishops. As the Lord wants. This I asked a lot for, but then, the things a child tells his mother are a bit of a secret."

Categories: Abortion, Catechism, Catholic, Children, Church, EU, Europe, European Union, Events, Homosexuality, Life, Marriage, Media, News, Politics, Pope Benedict XVI, Pope Francis, Prayer, Pro-Choice, Pro-Life, Same Sex Marriage, Sex, Sin
/