Shopping Cart
Your Cart is Empty
There was an error with PayPal
Click here to try again
Thank you for your business!
You should be receiving an order confirmation from Paypal shortly.
Exit Shopping Cart
Calling Scotland's 841,000 Catholics to unite as one voice
| | |
| --- | --- |
| Posted on February 19, 2016 at 4:36 AM | |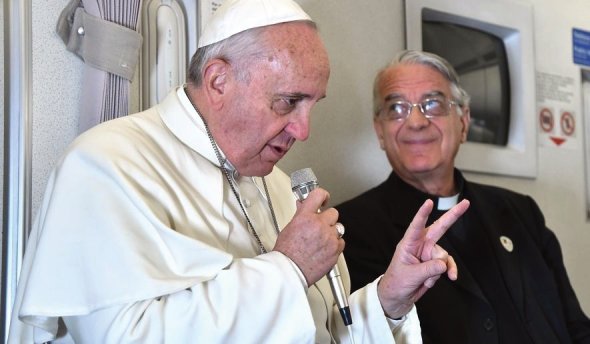 Another in-flight interview, yet another media frenzy.  It seems that every time Pope Francis takes to the skies there is more and more controversy, particularly from those who seem to have a strange interest in changing Church teaching.
This time one of the more interesting comments from the Holy Father was on the subject of contraception.  The pope was asked a question about the Zika virus and whether abortion [as the lesser of two evils] or avoiding pregnancy would be acceptable courses of action for women to take.  In response the pope stated that "Abortion is not the lesser of two evils. It is a crime. It is to throw someone out in order to save another. That's what the Mafia does. It is a crime, an absolute evil."  So that is pretty clear.
But it's what he then went on to say that may be a cause for concern for some.  He said: "Paul VI, a great man, in a difficult situation in Africa, permitted nuns to use contraceptives in cases of rape."  He added later: "avoiding pregnancy is not an absolute evil. In certain cases, as in this one, or in the one I mentioned of Blessed Paul VI, it was clear."  Francis is, of course, referring to Pope Paul VI, one of the greatest and most outspoken proponents of Catholic teaching on sexuality.  So is the pope suggesting that the use of contraceptives is okay? 
In order to tackle this question it is perhaps best to give due consideration to Church teaching on the matter.  Firstly, by referring to 'avoiding pregnancy not being an absolute evil' the pope isn't necessarily referring to contraception.  For some time the Church has accepted the use of natural family planning by married couples.  This is where a couple recognise their own pattern of fertility and use this knowledge to plan a family in order to give them the opportunity to raise their children in the best environment possible.  Natural family planning is not contrary to the teaching of the Church in the same way as contraception because, unlike contraception, natural family planning is still open to new life during each sexual encounter and the couple also give themselves completely to the other.  With contraception there is a clear barrier between the man and woman which prevents one giving him or herself completely to the other and there is also a distinct lack of openness to new life.          
As Catholics we are called to give ourselves completely to the other in marriage.  And as sexual union is part of our marriage then we must be prepared to give ourselves completely to the other each time we embrace that act. We have to be a gift to our spouse.  Totally and unconditionally.  If we do not do this i.e. by using contraception, then we are acting contrary to Church teaching.  This is why contraception is immoral. 
So what about the nuns in Africa?  In these cases there would have been no voluntarily act of self-giving on the part of the nuns.  The nuns did not desire to participate in this sexual encounter.  As a result the use of birth control in this instance is not viewed as being an immoral barrier between the self-giving love of one spouse to another with the accompanying openness to new life.  Rather it is seen as an act of self-defence on the part of someone upon whom a criminal act is being perpetrated.  Further, the sexual encounter in this case was not within the realm of marriage i.e. it was not conjugal.  Therefore, it actually falls outwith Church teaching on the issue (
an issue tackled by Jimmy Akin here
).  This, I expect, is why Pope Paul VI sanctioned their use in these circumstances.
This, of course, is entirely different from the situation surrounding the Zika virus.  Here we are talking about women who are voluntarily engaging in sexual relations but who are using contraceptives to prevent new life.  This is clearly immoral and contrary to Church teaching.  These women do, however, have recourse to natural family planning, which is very much in accordance with the Church and is not immoral.
Let's be clear, Church teaching on contraception is not about to change. 
Categories: Abortion, Catholic, Church, Contraception, Crime, Love, Marriage, Natural Family Planning, News, Pope Francis, Pro-Choice, Pro-Life, Sex, Sin
/