Shopping Cart
Your Cart is Empty
There was an error with PayPal
Click here to try again
Thank you for your business!
You should be receiving an order confirmation from Paypal shortly.
Exit Shopping Cart
Calling Scotland's 841,000 Catholics to unite as one voice
| | |
| --- | --- |
| Posted on February 18, 2016 at 12:50 PM | |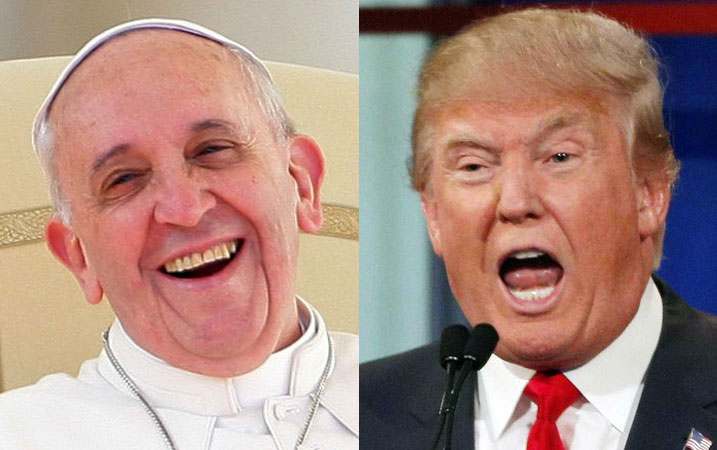 Some people may well believe that there is some sort of war of words brewing between Pope Francis and the outspoken Republican Presidential hopeful Donald Trump.  Trump hasn't shied away from criticising the pope's recent visit to Mexico, suggesting that the pope doesn't appreciate the problems of an open border between the United States and Mexico.  He has also claimed that the pontiff is becoming a "political person".
What Trump doesn't appreciate is that, while the pope may not appreciate the perceived difficulties Trump has with the lack of a concrete wall between Mexico and the US, he does appreciate the need for unity over division, even when this means we may lose a little as a result.  Pope Francis has already expressed caution about division when asked about the potential
independence of Catalonia, La Padania and Scotland in 2014
, stating that: "You have to study each case individually. There will be cases that are just and others that are unjust, but the secession of a nation without a history of forced unity has to be handled with tweezers and analysed case by case."  At the end of the day, as a man of Christ, Pope Francis wants unity.  He is not stupid enough to think that unity can be achieved in all cases.  He admits that much.  But in most cases unity will be the sensible option and I believe that this is the case with Mexico and the United States.  And while they may be two distinct countries, the building of some kind of grand concrete monstrosity between them seems archaic and almost childlike.  It's the type of kingdom building you expect to see in an X-box game, not in real life.
In terms of the pope as a "political person".  The pope must be politically astute as must the Church, especially in an increasingly secular relativist world where God is being increasingly pushed to the sidelines and beyond.  The pope must also have an opinion on political matters where the ideologies of our politicians threaten the good of humanity and our world.  Abortion is an example of this, as is unnecessary division between peoples, as is the case here.
While the pope hasn't to my knowledge directly referred to Donald Trump there is no doubt he has ruffled the businessman's feathers.  But then who hasn't?  Trump may well become the most powerful man in world politics and he may even fulfil his dream of building a wall between Mexico and his own land of the free (ironic isn't it?).  But so long as the Church established by the master of unity himself, Jesus Christ, is still in existence Mr Trump's divisive playground tactics will always be scrutinised and put firmly in their place.  As the pope said: ""a person who thinks only about building walls... and not of building bridges, is not Christian".

Categories: Catholic, Christian, Christianity, Church, Division, Events, News, Politics, United States
/