Shopping Cart
Your Cart is Empty
There was an error with PayPal
Click here to try again
Thank you for your business!
You should be receiving an order confirmation from Paypal shortly.
Exit Shopping Cart
Calling Scotland's 841,000 Catholics to unite as one voice
| | |
| --- | --- |
| Posted on February 12, 2016 at 7:22 AM | |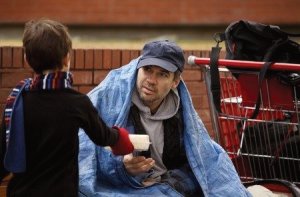 A number of weeks ago I saw a great post on Facebook about making up gift bags for the homeless.  I followed this up with my own post on the matter and it was warmly welcomed.  But as with a lot of these things the impetus faded and I never really got things properly off the ground.
But thank goodness for Lent!  The season for getting up off my backside and actually doing something positive for those in need is here and I feel the need to respond.  Our call to help the poor is, of course, a year round one but Lent is a great time to really kick-start a new initiative. 
So, I have set about making up a small, but hopefully useful, gift bag for some of the homeless around where I work.  And I wonder if you would like to do it too?  Now I appreciate we all have various commitments and there are so many of you out there who will already be giving so much of your time to the poor.  And I know that there are already countless wonderful people out in the streets on a daily basis doing incredibly selfless work for those in most need.  So this isn't for everybody.
But if you do feel the call to help, why not consider making up some bags of kindness and distributing them to a homeless person this Lent, and beyond?  I have decided to make up at least two each Friday during Lent and to take them out with me onto the streets, where I will hand it over to a couple of people in need.  All being well I will ask the person their name and introduce myself to them, so that I am not just thrusting a bag into their hand and saying 'see ya later'.  That seems a bit impersonal and rude.  It's nice to spend a bit of time with the homeless, even if it's just a minute or two.  Maybe they have something they would like to share with another person, or maybe they just need to feel loved.
Suggested items for your gift bag
Your gift bag will, of course, go a long way to making someone feel loved.  In terms of what to put in it, I have opted for the following:
Gloves, socks, toothbrush, toothpaste, deodorant, Kleenex tissues, water, cereal bar, chocolate, fruit, chewing gum, and a few pounds if you can spare it.
It's really up to you what you want to put in it.  The main thing is that you have gone to the effort of making it up and giving it to someone who needs it. 
And here's a thought….why not get your kids to help you?  It could be great fun to get the kids involved in making up the bags and perhaps they can assist you when you go out onto the streets.  It lets them see you engaging with the poor and encourages them to do the same as they get older.    
I fondly recall one of the first things Pope Francis said as pontiff, he said that we need to get close to the poor and "touch their wounds".  That has stuck with me ever since.  We need to "touch their wounds"!  That is an incredibly intimate and personal thing to do.  It's also frightening and distasteful for some.  But if we want to be like Jesus we need to get on our knees and we need to get the dirt on our hands.  We are the hope for our poor people, and this small act of love and kindness is a real opportunity to let Christ's love shine through us and out into the world.
Categories: Charity, Christian, Christianity, Jesus, Lent, Love, Pope Francis, Poverty, Suffering
/