Shopping Cart
Your Cart is Empty
There was an error with PayPal
Click here to try again
Thank you for your business!
You should be receiving an order confirmation from Paypal shortly.
Exit Shopping Cart
Calling Scotland's 841,000 Catholics to unite as one voice
| | |
| --- | --- |
| Posted on January 11, 2016 at 8:39 AM | |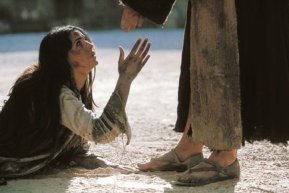 Jesus was compassionate but firm in the Truth
Pope Francis, during his Sunday Angelus, has spoken about the importance of Baptism and the role it plays in our lives.  Having earlier baptised 26 baby girls and boys at morning Mass, the pope was keen to impress upon the gathered faithful the critical nature of this sacrament.
The pope said that in Baptism the Holy Spirit "burns and destroys original sin, returning to baptism the beauty of divine grace."
The pope then stressed the importance of following Jesus and being obedient to the Truth whilst remaining true to Christ's qualities of tenderness and humility.  And here, I think, is the critical issue for us Christians today.  While we must speak the Truth we must do it in a spirit of tenderness and humility.  But similarly, while we must be tender and humble in our approach, we can never stray from the Truth.  It's not a balancing act because that would suggest compromising one or both aspects.  Instead we are called to deliver the Truth in its fullness and to do this in a fully humble and completely tender way.
In my experience people tend to be more inclined to do one more than the other.  For example, some people may reject certain elements of Christ's teaching with the aim of showing more compassion and tenderness to people.  This is because some elements of teaching are difficult to accept, especially set against the backdrop of an increasingly liberal and relativist society.  Others may be more determined to stick rigidly to the Truth but seem to lack that tenderness and humility, especially when they see a threat to Christ's teaching.
Ultimately we need to be firm in both elements.  We need to be firm in our faith, in the same way that Christ was and in the way that God calls us to be.  Jesus' disciples died unimaginable deaths because they were firm in their faith and didn't go along with the popular views of society.  They stuck to their beliefs even though everybody mocked them and thought they were talking nonsense.  They refused to reject the truth of Christ and the Church he established, preferring to invest their lives in being the men Jesus called them to be with the sure and certain hope of an eternal reward.  Similarly, we need to be firm in our tenderness and humility.  Jesus had an uncanny knack of being firm but also loving, gentle and kind.  When he prevented the prostitute from being stoned by the scribes and the Pharisees he was careful to tell her to "go and sin no more".  But he did this while telling her that he didn't condemn her.  He wanted her to stop sinning, to stick to the Truth.  But he also wanted her to know that she was loved and that mercy would be shown to her.
It's important for us to remain true to both aspects when it comes to our faith.  We must be true to Christ and his teaching and we must be tender and humble in remaining faithful to that teaching.  The Truth is what it is and it doesn't change.  It can be found in your copy of the
Catechism of the Catholic Church
.  And the tenderness and humility we need in order to take that Truth to others can be found in the loving person of Jesus Christ.
So, is it possible to be both faithful to the Truth and be tender and humble?  Yes.  Just look to the example of Jesus and in him you will find the perfection of fulfilling both aspects.
Categories: Apologetics, Baptism, Catechism, Catholic, Charity, Christian, Christianity, Church, Crucifixion, Evangelisation, Faith, Forgiveness, God, Holy Spirit, Jesus, Love, Mercy, Pope Francis, Reconciliation, Tradition, Truth, Word of God
/