Shopping Cart
Your Cart is Empty
There was an error with PayPal
Click here to try again
Thank you for your business!
You should be receiving an order confirmation from Paypal shortly.
Exit Shopping Cart
Calling Scotland's 841,000 Catholics to unite as one voice
| | |
| --- | --- |
| Posted on September 18, 2015 at 7:22 AM | |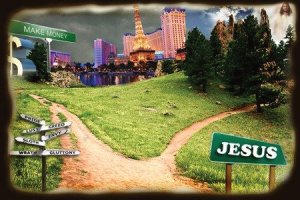 We must take the narrow path to Christ
Today's First Reading (1 Timothy 6:2-12):
'This is what you are to teach the brothers to believe and persuade them to do. Anyone who teaches anything different, and does not keep to the sound teaching which is that of our Lord Jesus Christ, the doctrine which is in accordance with true religion, is simply ignorant and must be full of self-conceit – with a craze for questioning everything and arguing about words. All that can come of this is jealousy, contention, abuse and wicked mistrust of one another; and unending disputes by people who are neither rational nor informed and imagine that religion is a way of making a profit. Religion, of course, does bring large profits, but only to those who are content with what they have. We brought nothing into the world, and we can take nothing out of it; but as long as we have food and clothing, let us be content with that. People who long to be rich are a prey to temptation; they get trapped into all sorts of foolish and dangerous ambitions which eventually plunge them into ruin and destruction. 'The love of money is the root of all evils' and there are some who, pursuing it, have wandered away from the faith, and so given their souls any number of fatal wounds.
But, as a man dedicated to God, you must avoid all that. You must aim to be saintly and religious, filled with faith and love, patient and gentle. Fight the good fight of the faith and win for yourself the eternal life to which you were called when you made your profession and spoke up for the truth in front of many witnesses.'
It's hard for Catholic people to remain true to Jesus Christ and the Traditions of the Catholic Church, especially in this day and age when religion is often frowned upon for one reason or another.  Yet that doesn't make it any less true or relevant.
St Paul's letter to Timothy encourages us to remain true to Christ and his teaching and to remain true to the teaching of the Church he himself founded; the Roman Catholic Church which continues to exist to this very day.
St Paul warns us about those who stray from this teaching, and in true St Paul style, he doesn't mince his words!  He says that those who do things differently to that taught by Christ and his Church are "simply ignorant and must be full of self-conceit – with a craze for questioning everything and arguing about words."  Isn't it interesting that St Paul should specifically refer to arguments about words?  Consider the abortion debate and how pro-choice activists often try to use words and phrases to argue that abortion is okay. They use (albeit wrongly) terms such as 'embryo', 'foetus', 'collection of cells' and 'personhood' to try to make their point. Consider how Pope Francis' words are so often used against him by those who misinterpret him or those who fail to understand his bigger message.  Other examples of this can be found in debates around contraception and the redefinition of marriage.
The tragedy of all this is that Catholic people, including myself, continually stray from Christ's teaching and the teaching of his Church.  I fall into the traps of the secular relativist society and I become that ignorant person full of self-conceit that St Paul is referring to. But thankfully Christ and his Church give me the Sacrament of Reconciliation where I can go and be forgiven for straying from the Truth.
At the end of the day, there will be many times in our lives when we will stray from the right path. But the key is to turn back, as the prodigal son did, into the loving arms of the Father.  While we may turn our back on Him there will never be a time when He turns His back on us.  He is always standing there, watching and waiting for us to return; to return to the path of Truth which He himself created when He gave us His only Son and gave us His Church.
Brother and sisters, we must do as St Paul says and "Fight the good fight of the faith" by speaking up for the truth with love, patience and gentleness before all people, even when it makes us feel a little uncomfortable.  Remember, it is unlikely we will ever be made to feel as uncomfortable as the early disciples who suffered immeasurable pain, including death, in standing up for the Truth.   
And even though we may well feel a little uncomfortable we must remember that we were not made for this world; that our destiny is in Heaven to be one with the Father, with Christ our Saviour, our Blessed Mother Mary, and with all the Saints and Angels.  Surely that is worth fighting for?
Categories: Abortion, Apologetics, Bible, Catholic, Christian, Christianity, Church, Confession, Contraception, Death, Dwelling on the Word of God, Faith, Forgiveness, God, Heaven, Jesus, Life, Love, Marriage, Mercy, Persecution, Pro-Choice, Pro-Life, Reconciliation, Relativism, Religion, Sacrament, Sacrifice, Saints, Salvation, Same Sex Marriage, Scripture, Secularism, Sin, Suffering, Tradition, Truth, Word of God
/