Shopping Cart
Your Cart is Empty
There was an error with PayPal
Click here to try again
Thank you for your business!
You should be receiving an order confirmation from Paypal shortly.
Exit Shopping Cart
Calling Scotland's 841,000 Catholics to unite as one voice
| | |
| --- | --- |
| Posted on September 4, 2015 at 7:24 AM | |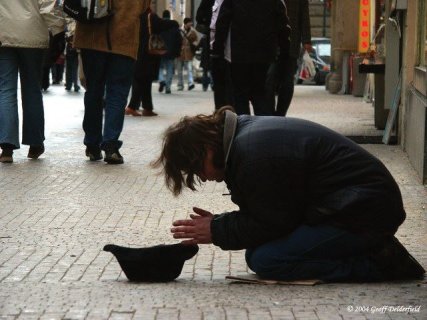 Could this man help you find God? 
Sunday's Second Reading (James 2:1-5):
'My brothers, do not try to combine faith in Jesus Christ, our glorified Lord, with the making of distinctions between classes of people. Now suppose a man comes into your synagogue, beautifully dressed and with a gold ring on, and at the same time a poor man comes in, in shabby clothes, and you take notice of the well-dressed man, and say, 'Come this way to the best seats'; then you tell the poor man, 'Stand over there' or 'You can sit on the floor by my foot-rest.' Can't you see that you have used two different standards in your mind, and turned yourselves into judges, and corrupt judges at that?
Listen, my dear brothers: it was those who are poor according to the world that God chose, to be rich in faith and to be the heirs to the kingdom which he promised to those who love him.'
It's quite fitting that this scripture passage should come up following the events of the last week.  The refugee crisis has now grabbed the attention of the world and many are doing remarkable things to help those in great need.  It is a tale of sadness tinged with hope in the human race. But as we help those in need, be they refugees, the homeless or people simply living in poverty, are we missing something important with respect to our own salvation?
St James gets at a very important point in today's reading.  He suggests we give everyone a place in our lives.  It doesn't matter who they are, what they're worth, how they look, or what their social status or class happens to be.  We are called to love all people.
The most valuable thing anyone on earth can own is faith.  Faith in God, granted with His grace, is the most beautiful, most perfect gift, yet it is not necessarily appreciated by everyone.  So often people with wealth have so many material possessions and distractions that they forget about the real meaning of life and what really matters. 
But for those facing the torment of continuous poverty, day after day, it is often a different story. Having spoken with a number of homeless in my own city I am often astonished by the strength and depth of their faith. Belief and trust in God is almost a given, despite having to beg and forage for food on a daily basis and having to set up camp in underpasses and bin sheds in order to get a night's sleep. Their faith is as strong as anything I have witnessed and it comes not from being blessed with good fortune and material riches, but rather from accepting the poverty and deprivation God has handed them and trusting in His mercy to give them something greater in return. 
We are called to do all we can to help the poorest in our world.  We can give them comfort, food, and perhaps we can even give them a bed for the night.  But maybe we need to stop for a minute and rather than focus on all the things we can do for them, think about what they can do for us.  They are, in many respects, people of great faith.  We can learn from them.  We can learn how to love and trust God in even the most abject circumstances by speaking to those in poverty and affording them our ears for a few moments. Remember, they are the heirs to the kingdom of God, not us.  So learn from them and don't be afraid to let them take the lead in showing us the way to God.
Categories: Bible, Catholic, Charity, Church, Events, Faith, God, Heaven, Jesus, Life, Love, Mercy, News, Poverty, Refugee, Salvation, Scripture, Suffering, Word of God
/