Shopping Cart
Your Cart is Empty
There was an error with PayPal
Click here to try again
Thank you for your business!
You should be receiving an order confirmation from Paypal shortly.
Exit Shopping Cart
Calling Scotland's 841,000 Catholics to unite as one voice
| | |
| --- | --- |
| Posted on August 28, 2015 at 4:45 AM | |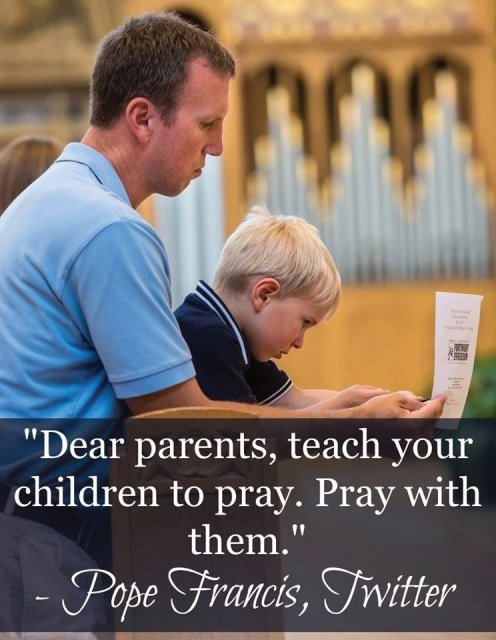 Pope Francis has urged parents to teach their children to pray, saying that children should learn prayer with the same spontaneity as when they learn to say "daddy" and "mummy". The pope made the remarks during his latest General Audience in St Peter's Square on Wednesday.
He said: "There are children who have not learned to make the Sign of the Cross.  You, mother, father: teach your children how to pray, how to make the Sign of the Cross."
The pope continued: "It is beautiful when mothers teach their little children to blow a kiss to Jesus or to Our Lady.  What tenderness there is in this.  In that moment, the child's heart is transformed into a place of prayer.  And this is a gift of the Holy Spirit."
The pope also encouraged families to pray the Gospel every day.
While it is easy for us to become lazy when it comes to prayer, it is surely an injustice to deprive our children of it.  There are so many material things used by society to entertain our children, whether it's the latest toy or gadget, the television, or even social media.  And while these may very well have a role to play, they cannot give our children true joy, nor can they give them eternal life; and surely eternal life is what we ultimately want for our children?
The importance of building a lasting relationship between our children and Jesus cannot be overstated.  We have a duty to bring our children to the Truth of Christ's teaching and to raise them in Christ's own Church where they will receive the Sacraments.  It is mothers, fathers, grandparents, aunts, uncles, cousins who will lay the foundations of every child's relationship with Christ.  And even if our own relationship with Christ has floundered, do we really want to compromise the relationship our children could have with the saviour of the world?
We have a duty to set a holy example to our kids. If a child sees someone else kneeling in prayer, saying grace before meals, kissing a Crucifix, or going to Confession regularly, how much more likely are they to do the same?
Helping to build our childrens' relationship with Jesus is the most important thing we can do for them. It will set them out on the road to eternal life. 
Categories: Catholic, Catholic Education, Children, Church, Events, Faith, Family, General Audience, God, Gospel, Jesus, Pope Francis, Prayer, Rome
/