Shopping Cart
Your Cart is Empty
There was an error with PayPal
Click here to try again
Thank you for your business!
You should be receiving an order confirmation from Paypal shortly.
Exit Shopping Cart
Calling Scotland's 841,000 Catholics to unite as one voice
| | |
| --- | --- |
| Posted on August 4, 2015 at 7:14 AM | |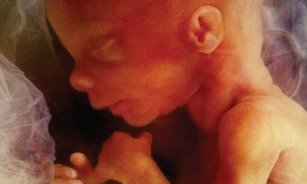 Why should we be afraid to speak up for this little one?
It was no surprise to see US President Barack Obama hogging the headlines yesterday in order to make his big pitch for a greener United States. This was, after all, the day on which the true evil of his great friend Planned Parenthood was debated in the Senate.
It was extremely sad, but at the same time fascinating, to watch the heated exchanges around the sale of baby body parts and the wider issue of abortion so passionately debated at this level for around three and a half hours.  The Republican side very much in favour of defunding Planned Parenthood; the Democrats preferring to retain the existing arrangement.  It made me a tad jealous when I think of the lack of passionate debate on the matter here in the UK.  While I firmly believe there are a number of pro-life politicians here in the UK, they appear too unwilling to stick their head above the parapet and speak up for the unborn.  Our country has become so secularised and so entrenched in a misplaced and misguided view of so called 'equality' that people are afraid to say even the slightest thing out of turn.  Not so in the US.  Their elected members are quite comfortable expressing their pro-life views and the views of the people they represent, even if it means speaking out against abortion in no-nonsense terms. 
Last year I wrote to former Scottish Labour leader Jim Murphy to express my deep disappointment at his claim to be a man of the Catholic faith yet also a man who believes in a woman's right to have an abortion.  The two don't go.  You cannot square being true to the ways of Jesus Christ and his Church at the same time as agreeing that another person should be entitled to make the decision that an unborn child should die.  Mr Murphy never responded to my letter.  But then, is this a surprise?  Of course it isn't.  Mr Murphy is just like so many others.  He simply doesn't have the guts to stand up for what is right. 
We have been fooled into thinking that it is not appropriate to tell people that we believe that human life begins from the moment of conception and that we believe all human life, including the unborn, should be protected.  We have also been fooled into thinking that being pro-life is simply a far right, conservative religious stance and is, therefore, of little worth to society at large. But this simply is not true. Consider the growing number of secular and atheist pro-life groups appearing on Twitter and Facebook. Indeed the entire pro-life case can be argued to great effect without any reference whatsoever to religion (consider Trent Horn's book Persuasive Pro-Life for proof of this).  So, should we be afraid to be open about our pro-life views?  Certainly not!  Consider this….is it really weird and unreasonable to hold the view that we believe all human life is deserving of the same protection, no matter how big or small that human life may be?  That is the basic argument we are putting forward.  Isn't it an incredibly reasonable proposition?
Yes, it would be fair to say that there are various ancillary arguments around the abortion debate such as an individual's right to choose and the consequences of bringing children into social deprivation, but the end game is always the same.  It boils down to 'what is the unborn'?  If the unborn is a human being then society is obliged to protect it as much as it protects born people.  If it isn't a human being (and presumably just a blob of tissue) then aborting it is no more serious than cutting off a toenail.  As Greg Koukl once wrote: "If the unborn is not a human person, no justification for abortion is necessary.  However, if the unborn is a human person, no justification for abortion is adequate."
In trying to figure out the answer to the question 'what is the unborn?' consider Steve Wagner's '10 second pro-life apologist' argument: if it's growing, isn't it alive?  If it has human parents, isn't it human?  And human beings like you and me are valuable, aren't we?.  It's very simple, but it does make a very important point.
Perhaps it's time for all of us, politicians included, to really think about the unborn and what they really are.  If they are human beings then surely we all have an obligation to protect them from day one and to stand up for them and their most fundamental right to life.
Categories: Abortion, Atheism, Catholic, Children, Church, Death, Jesus, Life, News, Politics, Poverty, Pro-Choice, Pro-Life, Religion, Secularism, UK Parliament, United Kingdom, United States
/