Shopping Cart
Your Cart is Empty
There was an error with PayPal
Click here to try again
Thank you for your business!
You should be receiving an order confirmation from Paypal shortly.
Exit Shopping Cart
Calling Scotland's 841,000 Catholics to unite as one voice
| | |
| --- | --- |
| Posted on July 24, 2015 at 8:12 AM | |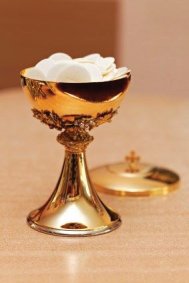 Sunday's Gospel (John 6: 1-15):
'Jesus went off to the other side of the Sea of Galilee – or of Tiberias – and a large crowd followed him, impressed by the signs he gave by curing the sick. Jesus climbed the hillside, and sat down there with his disciples. It was shortly before the Jewish feast of Passover.
Looking up, Jesus saw the crowds approaching and said to Philip, 'Where can we buy some bread for these people to eat?' He only said this to test Philip; he himself knew exactly what he was going to do. Philip answered, 'Two hundred denarii would only buy enough to give them a small piece each.' One of his disciples, Andrew, Simon Peter's brother, said, 'There is a small boy here with five barley loaves and two fish; but what is that between so many?' Jesus said to them, 'Make the people sit down.' There was plenty of grass there, and as many as five thousand men sat down. Then Jesus took the loaves, gave thanks, and gave them out to all who were sitting ready; he then did the same with the fish, giving out as much as was wanted. When they had eaten enough he said to the disciples, 'Pick up the pieces left over, so that nothing gets wasted.' So they picked them up, and filled twelve hampers with scraps left over from the meal of five barley loaves. The people, seeing this sign that he had given, said, 'This really is the prophet who is to come into the world.' Jesus, who could see they were about to come and take him by force and make him king, escaped back to the hills by himself.'
Did you know that a barley loaf was considered to be the bread of the poor?  God chose the food of the poor in order to satisfy the hunger of His created people.  He could have chosen to feed them with a grand banquet fit for a king but no, he chose a simple loaf of bread.
Yet this simple loaf represents something truly great; something more satisfying than a grand banquet.  It is the means by which God has chosen to come to us and to develop His relationship with us. 
Through a simple piece of bread God shows His great love for us and showers us with graces.  Why He decided to do this is a great mystery and it is a mystery that may well be revealed to us one day.  But the intricacies of this mystery is not something we need concern ourselves with right now.  Our concern must be the bread with which He feeds us….the Eucharist.  It is through the Eucharist, given to us in Holy Mass, that we are truly satisfied.  It is through the Eucharist that we receive the graces we need to live our daily lives. It is through the Eucharist that God comes to us in love, inviting us to an ever deeper relationship with Him, and encouraging us to never tire of trusting in Him.  And it is through the Eucharist that we will be saved; saved by the blood of Christ who sacrificed himself on a Cross so that we may live forever.
Yet even though we receive this great gift from God, there are still many basketfulls left over.  Our job, brothers and sisters, is to go out to the world and find a home for this bread.  God doesn't just want a few willing participants to come to Him and receive Him in the Eucharist.  He wants all of His created people to take part!  There are so many basketfulls of bread left over after we receive the Eucharist!  Let us find more homes for God to shine His great light in our world.  Let us be open to speaking highly of this great gift of God so that others may come to share in it.
Categories: Bible, Catholic, Church, Creation, Crucifixion, Dwelling on the Word of God, Eucharist, God, Gospel, Gospel Reflection, Holy Communion, Jesus, Life, Mass, Miracle, Poverty, Sacrament, Sacrifice, Salvation, Scripture, Word of God
/