Shopping Cart
Your Cart is Empty
There was an error with PayPal
Click here to try again
Thank you for your business!
You should be receiving an order confirmation from Paypal shortly.
Exit Shopping Cart
Calling Scotland's 841,000 Catholics to unite as one voice
| | |
| --- | --- |
| Posted on May 19, 2015 at 9:07 AM | |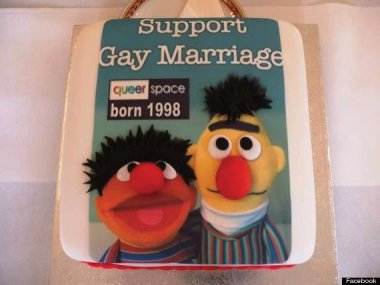 The cake Ashers refused to bake
While the law doesn't tend to agree, I still firmly believe that a business owner should have the right to decide not to provide a service which would be contrary to their devoutly held beliefs.  And this, for me, is key to the whole debate around Ashers bakery and the 'gay cake' furore in Northern Ireland. 
The bakery was told today that it discriminated against a homosexual customer for refusing to bake a cake with a slogan supporting homosexual marriage. 
Yet, despite the media spin, this is not about being homophobic.  And it is not about rejecting a person because they are homosexual.  This is about the desire of a bakery business not to create a cake which carries a message which is contrary to their strongly held beliefs.  Before this row erupted a homosexual man or woman could easily walk into Ashers bakery and order whatever they liked.  The difference with respect to this case is that Ashers were asked to create something which contained a message they just couldn't agree with.  Their response would have been the same had a heterosexual man or woman entered their shop and asked for the same cake.
And with this in mind, I do feel for Ashers.  They believe in something and they feel the need to live this out in every aspect of their life.  Indeed, as Christians, Christ compels them to do this. 
Yet the law won't have it. The law tells us that our personal belief and personal freedom means nothing as the state will ultimately dictate to us to what extent we can live out our Christian beliefs.  And such state dictatorship is not without its potential pitfalls.  For example, will Catholic Churches be forced to allow abortion providers to hold information days in their parish halls?  Will this website be shut down if it refuses the request by an abortion provider to advertise on its pages?  Will gay bars be forced to entertain concerts, rallies and fundraising events promoting traditional marriage?  Will bakeries run by homosexual people be expected to bake cakes containing slogans in support of traditional marriage between one man and woman?  With respect to this last question you would think yes, homosexual bakeries would be expected to bake cakes like this and that they would have no hesitation in doing so.  Yet this wasn't the experience of American Theodore Shoebat when he contacted thirteen homosexual-owned or pro-homosexual bakeries to order a cake with a slogan supporting traditional marriage and stating that 'gay marriage is wrong'.  Each bakery rejected his order and one even complained that the slogan 'went against their beliefs'.    
But it is important through all of this to remember that the desire for those opposed to homosexual marriage to be able to run their businesses in accordance with their beliefs is not a declaration of war on homosexuality.  This is the message sections of the media and certain secular groups want to put out there.  They want to draw a big line of division between homosexuals on one side and the so called 'homophobes' on the other.  Secularist groups in particular want this to be a nail in the coffin of religion.  It is, rather ironically, sheer intolerance on their part.
We as Christians must ensure that we do not get sucked into the hatred generated by the mainstream media and other groups intent on making capital from stories such as this.  This is not homophobia.  This is about whether an individual, or indeed a business, has the right to decline to create something or provide a service which is completely contrary to their own beliefs.  I believe that, while the law generally exists to protect, it is now at the stage where it is eroding the personal freedom of people to the point where their ability to make an honest living is compromised.  That cannot be right.    
Categories: Christian, Christianity, Faith, Homosexuality, Journalism, Law, Marriage, Media, News, Religion, Same Sex Marriage, Secularism
/