Shopping Cart
Your Cart is Empty
There was an error with PayPal
Click here to try again
Thank you for your business!
You should be receiving an order confirmation from Paypal shortly.
Exit Shopping Cart
Calling Scotland's 841,000 Catholics to unite as one voice
| | |
| --- | --- |
| Posted on May 11, 2015 at 12:35 PM | |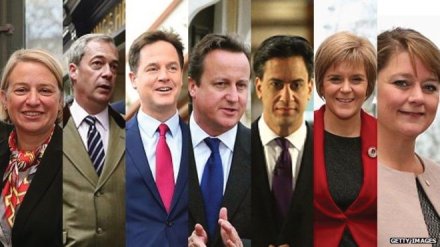 These people need our love and prayers too
It's not often you hear people standing up for politicians but that is precisely what I am about to do!  As the dust settles on last week's UK General Election the usual lampooning of political figures and parties has started up once again as we embark on another five year cycle of ridicule and abuse in the direction of those elected to lead our country.
As Christians our call is simple: to love one another and to keep God's Commandments.  Indeed, this was the call at Mass last Sunday for those blessed enough to be there to hear the Word of God. 
So, in light of this calling, is it okay to ridicule our politicians?  Is it okay to speak ill of them and to make fun of them?  Is it okay to abuse them?  The answer is quite simply no.  Of course it isn't okay to ridicule politicians; to speak ill of them; or abuse them.  We are called to love them!  God expects us to love our political leaders just as much as we love our own families. That's what brotherly and sisterly love 'God-style' is all about!  There are no exceptions. 
Yet this does not mean we cannot question our politicians and call them to account.  That is all part of the democratic process and indeed we, as Catholics, are expected to participate in that process in order to ensure God's Commandments are upheld in our country.  But we must be careful not to cross the line into the territory of abusing our politicians.  We shouldn't even be gossiping about them (remember Pope Francis' call to refrain from gossiping applies to all God's children, even those in political office).
So as we embark on this latest cycle of government with those newly elected and those elected to serve another term, let us pray hard for our political representatives, that they will serve the people of the United Kingdom with love, mercy, and compassion; and with justice at the heart of their policies.  They have a very difficult job and that job is made all the more difficult by a media constantly trying to undermine them and make mischief from their every move. Let us pray that our politicians will not be swayed by the traps set for them by the evil one and let us hope that moved by the Holy Spirit they will appreciate the importance of God's Commandments and that they will draw inspiration from the loving example of Jesus Christ as they lead our country.
Categories: Catholic, Christian, Christianity, Church, Commandments, Creation, Events, God, Gossip, Holy Spirit, Jesus, Journalism, Love, Mass, Media, Mercy, News, Politics, Prayer, UK Parliament, United Kingdom, Word of God
/