Shopping Cart
Your Cart is Empty
There was an error with PayPal
Click here to try again
Thank you for your business!
You should be receiving an order confirmation from Paypal shortly.
Exit Shopping Cart
Calling Scotland's 841,000 Catholics to unite as one voice
| | |
| --- | --- |
| Posted on April 24, 2015 at 11:35 AM | |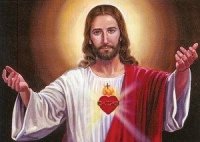 Only this man has the power to save us
Sunday's First Reading (Acts 4:8-12):
Filled with the Holy Spirit, Peter said: 'Rulers of the people, and elders! If you are questioning us today about an act of kindness to a cripple, and asking us how he was healed, then I am glad to tell you all, and would indeed be glad to tell the whole people of Israel, that it was by the name of Jesus Christ the Nazarene, the one you crucified, whom God raised from the dead, by this name and by no other that this man is able to stand up perfectly healthy, here in your presence, today. This is the stone rejected by you the builders, but which has proved to be the keystone. For of all the names in the world given to men, this is the only one by which we can be saved.'
Only Jesus Christ can save us.  Only Jesus Christ can save us. Only Jesus Christ can save us. Only Jesus Christ can save us…. 
Has it sunk in yet?? It's quite incredible to think that each one of us can be saved from sin and death and brought to eternal life.  It's even more incredible to think that all this is achieved through one man!  Can you imagine being that one man?  Can you imagine if you were the key to Heaven; the key to eternal life?  Wouldn't it be quite a responsibility?  It certainly would; but it would be worth all of that responsibility to see wave after wave of people coming back to you because they trust in you and because they believe in you and believe in the Church you founded. Yet conversely, wouldn't it be so sad to know that not all of your created people are coming back to you?  Wouldn't it be sad to be rejected by your very own creation?  Rejected despite coming to earth to spread the message of a perfect love; rejected despite performing miracle after miracle to help the poor and the needy; rejected despite suffering greatly at the hands of your oppressors who humiliated you and abused you before nailing you to a cross; rejected despite rising from the dead and revealing yourself to those close to you who then took that great news to the ends of the earth.  After all of that and still you are rejected!  How breathtakingly sad must that be for Jesus? 
It would seem that no matter how often we are told Christ is the only way to God and the only way to salvation, we still don't quite take it in.  Even Jesus himself told us that he was the way, the truth and the life and that nobody can get to the Father except through him; yet many still doubt.  So here is St Peter, the rock upon which Christ's Church is built, telling us once more that Christ is the only one who can save us. 
So, are we prepared to really let this sink in?  And even more importantly, are we prepared to take this message to the ends of the earth no matter what?  You see, we can't possibly just keep this to ourselves or within the confines of our families and close friends.  An increasingly aggressive secularism tells you to keep it to yourself, but Jesus tells you to take it to the ends of the earth!  So let's get out there and tell the world that Jesus is the only way!  It is Jesus Christ, the most perfect, most beautiful, most glorious, most incredible man who ever walked this earth who can give us the gift of eternal life.  It is the most precious Jesus, that man who took on unbearable pain on our behalf, who is the key to our salvation.  Trust him, love him and surrender to him.  And encourage others to do the same.
Categories: Apologetics, Bible, Catholic, Christian, Christianity, Church, Creation, Crucifixion, Death, Dwelling on the Word of God, Evangelisation, Faith, God, Heaven, Hell, Holy Spirit, Jesus, Joy, Life, Love, Mercy, Miracle, Peace, Sacrifice, Saints, Salvation, Scripture, Secularism, Sin, Suffering, Word of God
/