Shopping Cart
Your Cart is Empty
There was an error with PayPal
Click here to try again
Thank you for your business!
You should be receiving an order confirmation from Paypal shortly.
Exit Shopping Cart
Calling Scotland's 841,000 Catholics to unite as one voice
| | |
| --- | --- |
| Posted on April 17, 2015 at 4:29 AM | |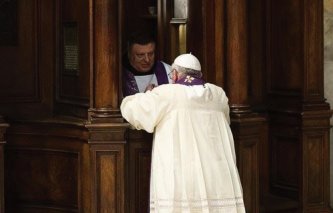 From Sunday's First Reading (Acts 3:13-15,17-19):
'Now you must repent and turn to God, so that your sins may be wiped out.'
Peter, in the short passage from Sunday's first reading, gives a clear and incredibly simple instruction to the people who put Christ to death.  He tells them to repent of their sins and turn to God; and the result of this according to Peter?  Their sins will no longer exist.  It's very simple stuff!  It's also incredibly merciful when you consider what the people did to Jesus; how they ridiculed him, abused him, spat on him and beat him.  Yet here is one of Jesus' most trusted friends telling them that all is forgiven, if they just say they are sorry. 
But is there anything more we can add to this instruction from Peter?  Let's consider Sunday's second reading from St John:
Sunday's Second Reading (1 John 2:1-5):
'I am writing this, my children,
to stop you sinning;
but if anyone should sin,
we have our advocate with the Father,
Jesus Christ, who is just;
he is the sacrifice that takes our sins away,
and not only ours,
but the whole world's.
We can be sure that we know God
only by keeping his commandments.
Anyone who says, 'I know him',
and does not keep his commandments,
is a liar,
refusing to admit the truth.
But when anyone does obey what he has said,
God's love comes to perfection in him.'
Here John puts a little more meat on the bones of Peter's instruction to repent and turn to God.  He gives a similar instruction to turn to Christ if we should sin.  But it is the next part which is the challenge and it is along similar lines to Jesus' call to the woman at the well to "go and sin no more".  Here John the Evangelist tells us that we must keep God's Commandments, and he also states that keeping God's Commandments is the only way to 'know God'.  But what does it mean to 'know God'?  The clue is in the last sentence of the passage.  God's love will come to perfection in us if we keep His Commandments; that is, the perfect love of God will shine through us and out of us to the world if we do as He says.  We will become beacons of love, mercy, peace and hope for all.
This is in keeping with the recent
Papal Bull of Indiction
where Pope Francis revealed a jubilee Year of Mercy from 8 December 2015 (the Solemnity of the Immaculate Conception).  Our call is to go out to the world and to show mercy to everyone.  No exceptions.  But in order to be a merciful people we first need to receive God's mercy and we must keep His Commandments.  Only if our own house is in order will we be in a fit and proper state to administer to others.  Think of a doctor or a lawyer.  Professionals in these fields need to satisfy annual training requirements and receive an annual certificate authenticating their ability to practice.  If they don't fulfil these requirements they are not considered to be fit and proper persons with respect to their work and they cannot diagnose patients' ills or advise clients on legal problems.  They are essentially deemed unfit and incapable of carrying out their job.
And so it is with God.  Unless we first seek His forgiveness for our own wrongdoings and thereafter keep His Commandments, we are deemed unfit to administer to those around us.  Only God gives us true love, true mercy, true peace and true hope.  And if we want to care for those around us and give them a real and proper love, unconditional mercy, perfect peace and a sure and certain hope, we must seek God in the Sacrament of Reconciliation, because it is in that Sacrament where we will find all of these things and much more besides.  And it is this Sacrament which gives us the graces we need to go forth into the world with God's Commandments firmly in heart and mind, to bring God's perfect love, mercy, peace and hope to all people. No exceptions.
Categories: Bible, Catholic, Church, Commandments, Confession, Dwelling on the Word of God, Evangelisation, Feast Days, God, Jesus, Love, Mercy, News, Peace, Pope Francis, Reconciliation, Rome, Sacrament, Scripture, Sin, Solemnity, Vatican, Word of God
/