Shopping Cart
Your Cart is Empty
There was an error with PayPal
Click here to try again
Thank you for your business!
You should be receiving an order confirmation from Paypal shortly.
Exit Shopping Cart
Calling Scotland's 841,000 Catholics to unite as one voice
| | |
| --- | --- |
| Posted on March 23, 2015 at 10:04 AM | |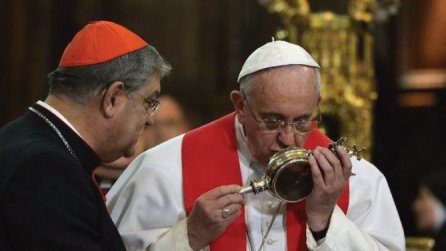 Pope Francis reacts to the miracle
Isn't it intriguing that the world pays little attention to supernatural miracles?  For example, if you were to put a no-hoper with the voice of a sick frog on the 'The Voice' and they ended up winning the coveted reality TV show's top prize, the world would proudly announce it to be a "miracle".  However, witnessing the sudden liquefying of the blood of a near 2,000 year old man or the sudden transformation of a communion wafer to real flesh is something that is given little attention.
Perhaps the most disappointing thing is that it is not only mainstream media and sceptics outside Catholicism who are guilty of ignoring such miracles.  Indeed the number of Catholic people who pay little heed to these miracles is quite voluminous.  It sadly means that God's visible intervention in our daily lives here on earth simply goes unnoticed.  Didn't that happen before, around 2,000 years ago?  You know, with the one they called Christ? 
Indeed, aren't those sceptics among us, especially the ones of a Catholic persuasion, simply following in the footsteps of the Sanhedrin in Jesus' time; rejecting any notion of God coming to earth and influencing our world.  They might ask: Why should I believe it?  God coming to earth to reveal Himself?  God making the scientifically impossible happen?  Are you mad?  But then, who would have thought a woman could conceive a child without sexual relations?  Who would have thought water could be turned to wine in an instant?  Who would have thought bread could be turned to flesh, and wine to blood?  Who would have thought a man could rise from the dead? 
God has been performing miracles for thousands of years, and He continues to perform them to this very day. In fact, you are a miracle!  You are a gift from God to this world. Without His intervention you wouldn't be here.  And without His intervention you wouldn't have the chance to take your place in Heaven for all eternity.  The Eucharist is another daily miracle given to us by God.  Indeed it is Jesus Christ truly present in all the tabernacles of the world; body, blood, soul and divinity! 
The reported miracle of St Januarius in Naples at the weekend is just one in a long list of God coming to earth to reveal His true power.  The fact that Pope Francis was present for the miracle has perhaps nudged it slightly more into the spotlight than would normally be the case (after all, this miracle of St Januarius has been taking place for years!).  But it gives us an opportunity to stop and consider how we feel about such miraculous events.  Why aren't we shouting from the rooftops and telling people about these great happenings? Why don't we tell the world that God has revealed Himself yet again and encourage them to believe?  Are we perhaps sceptical?  Does it just seem a bit too far-fetched?  If so, why?  Do we outright reject the supernatural?  Will we simply not be satisfied until we hear of authentic scientific evidence confirming that no scientific explanation can be given for the 'miracle'?
There are a lot of questions for us to consider when it comes to miracles such as this.  But consider this….what if the children of Fatima had simply rejected their vision of Our Lady as nonsense?  What if St Bernadette did the same at Lourdes?  And St Juan Diego in Guadalupe?  And what about the disciples when Jesus rose from the dead?  What if they simply considered it all to be scientifically impossible and thus false? 
Our role as Catholic people is to spread the Good News throughout the world.  This means taking the Gospel out into our daily lives and living out our faith in love for God and neighbour.  But it also means being full of joy, and what better excuse to be full of joy than to know that God still interacts with His people by performing miracles before our very eyes?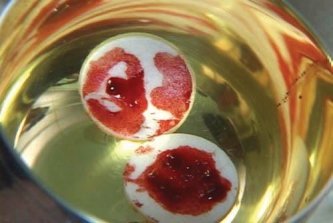 The Eucharistic miracle of Buenos Aires
Don't let the doubts creep into your mind.  Those doubts come from a sinister source; a source that does not want you to believe in God and His work.  Instead, be open to God's great power and just enjoy knowing that His presence is near!  Bask in the wonder of God's glory and His unbroken covenant with His people, with you!  He wants you to know that He is there for you!  Not one person is forgotten by God.  We are all His children and He wants us to experience His presence, His love.  It is for this reason that miracles happen.
Categories: Catholic, Church, Eucharist, Events, God, Heaven, Holy Communion, Jesus, Joy, Media, Miracle, News, Pope Francis, Saints, Science
/