Shopping Cart
Your Cart is Empty
There was an error with PayPal
Click here to try again
Thank you for your business!
You should be receiving an order confirmation from Paypal shortly.
Exit Shopping Cart
Calling Scotland's 841,000 Catholics to unite as one voice
| | |
| --- | --- |
| Posted on March 20, 2015 at 10:15 AM | |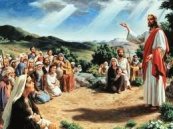 It pays to listen to Jesus
This Sunday's second reading (Hebrews 5:7-9):
'During his life on earth, Christ offered up prayer and entreaty, aloud and in silent tears, to the one who had the power to save him out of death, and he submitted so humbly that his prayer was heard. Although he was Son, he learnt to obey through suffering; but having been made perfect, he became for all who obey him the source of eternal salvation.'
Here's a simple formula....obey Jesus and you will receive eternal salvation. 
There you go.  End of. 
But do we need to explore this further?  Perhaps we should just bear in mind that this instruction means obeying everything Jesus commands us to do, not just the bits we think are easy or the bits we are comfortable with.  No, Jesus asks us to listen to him and to obey him in all things.
Perhaps this Lent we can start to do a bit more listening when it comes to Sacred Scripture, focusing intently as we hear the Word of God during Holy Mass.  We might even consider picking up our bible at home and just flicking it open at a page and see what inspires us.
If we can open our ears and eyes to what Jesus says to us in Sacred Scripture and let it sink into our hearts, we will be on the right path of obedience to him.  And it is this obedience that will give us the gift of eternal salvation.
You see, it pays to listen to Jesus.   
Categories: Bible, Catholic, Church, Commandments, Dwelling on the Word of God, God, Jesus, Salvation, Scripture, Word of God
/