Shopping Cart
Your Cart is Empty
There was an error with PayPal
Click here to try again
Thank you for your business!
You should be receiving an order confirmation from Paypal shortly.
Exit Shopping Cart
Calling Scotland's 841,000 Catholics to unite as one voice
| | |
| --- | --- |
| Posted on March 17, 2015 at 9:42 AM | |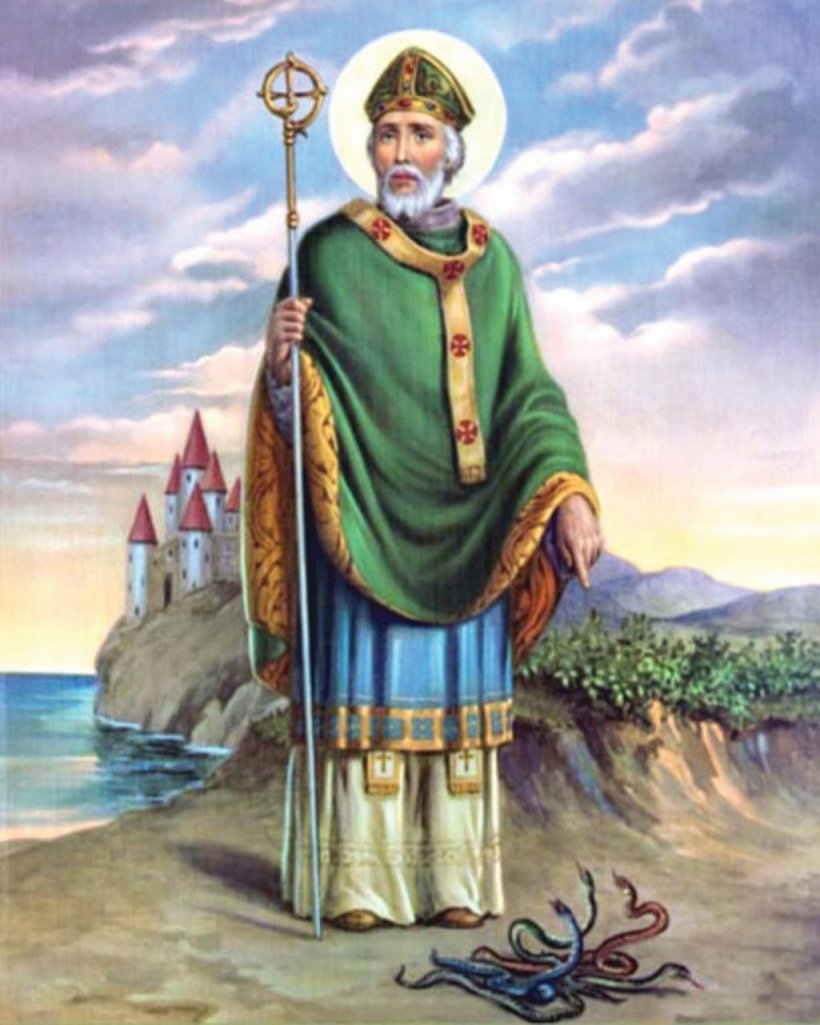 St Patrick, perhaps one of the most celebrated Saints in the world, was born in 387 in the little town of Kilpatrick near Dumbarton in Scotland.  He died in 461, aged 74, in Saul, Downpatrick, Ireland.
At the tender age of fourteen Patrick was taken from his family in Scotland to be a slave in Ireland, the country he would ultimately become patron saint of.  And it was during this time of captivity that he turned to God, praying fervently day and night and seeking the comfort of his heavenly Father.
At age twenty, Patrick had a dream in which he was told to go to the coast to escape his captors. He would heed this call, and by the grace of God some sailors picked him up and took him home to Scotland so that he could be reunited with his family.
However, he had another dream not long after, where he experienced the people of Ireland calling him back to them.  Not one to shy away from God's call, young Patrick once again set off, and it wasn't long before he set out on the road to the priesthood, eventually being ordained by the Bishop of Auxerre in France.  He returned to Ireland as a Bishop in 433 and settled in Slane, County Meath.  Patrick then preached the Gospel throughout Ireland for forty years, converting many to the Christian faith.  He worked many miracles throughout his life and he always put his love of God first in everything he did.  He was completely devoted to God and put all of his trust in Him. 
So what would St Patrick do today?  What would his reaction be to all of the excitement generated by his Feast day?  While he would undoubtedly enjoy some of the celebrations which take place in his honour, he would never have lost sight of the real meaning of the day.  St Patrick would have put God first before anything else.  So while he might enjoy a little celebratory dance with friends, he wouldn't do this until after he had spent some time praying to God.  He might even enjoy a little tipple, but again, he would only do it after spending sometime with God. 
If St Patrick walked among us today as we celebrate his Feast he would, without a shadow of a doubt, want us to celebrate his day; but he would want us to praise God for it. And what better way to give praise to God than to enjoy the gift of His Son Jesus Christ in the Eucharist at Holy Mass?  This is the kind of celebration St Patrick would want.
And while St Patrick is clearly a remarkable man, the truth is….he shouldn't be.  Why?  Because we are all called to be like St Patrick.  We are all called to be holy, to love God, to put God first at all times, and to take the Gospel message to the four corners of the earth.  To be holy should be the rule not the exception. Yet St Patrick is remarkable because he is very much the exception in today's world.  But we can change this.  We can be just like him if we are prepared to put God first at all times and trust completely in His love for us. 
Categories: Catholic, Christian, Christianity, Church, Eucharist, Evangelisation, Faith, Feast Days, God, Gospel, Holy Communion, Jesus, Love, Miracle, Prayer, Priesthood, Saints, Scotland, Word of God
/