Shopping Cart
Your Cart is Empty
There was an error with PayPal
Click here to try again
Thank you for your business!
You should be receiving an order confirmation from Paypal shortly.
Exit Shopping Cart
Calling Scotland's 841,000 Catholics to unite as one voice
| | |
| --- | --- |
| Posted on March 16, 2015 at 4:25 AM | |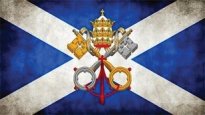 Today is our second anniversary and we would just like to say thank you to all of you who have supported us over these last two years.

We have managed to amass over three quarter of a million page views on our site and nearly three quarters of a million visitors. Without you we couldn't have achieved this!

We can only hope you find something useful in what we do and that we can encourage people to find joy in the Catholic faith, to learn more about it and to embrace it.

In the last two years I have personally learned so much more about our faith and the riches it contains. Some people have difficulty with certain teachings of the Church, but if you study the truth behind these teachings you will discover how everything just seems to fit with an ease and perfection which makes it so beautiful and rich. It's easier to simply knock the Church for not 'going with the times' than to sit down and study the faith and appreciate where the Church is coming from; to see its side of the argument.

I am left in no doubt that Christ is the Son of God, our Saviour, and that the Church he formed two thousand years ago is the Catholic Church and that it continues to bring Truth to our world in the face of doubt and cynicism, even from within its own ranks.

All we can do is hope that we all discover a little more about our faith from the work we do.

If I could recommend just a couple of things besides continuing to follow and support us, it would be to pick up our Bibles and Catechism more regularly and to consider tuning into podcasts such as Catholic Answers which provides an invaluable insight into the truth and beauty of our faith. I would also urge people not to shy away from talking about our faith to our children. Kids love Jesus!

In 2013 Pope Francis told the young people at World Youth Day to 'swim against the tide' and 'rebel against the culture of the temporary'. He wants us to be rebels for Christ and to fight against the tide of relativism and secularism.  Our armour for this fight is the Truth. So let's go out there and proclaim it to the world! Jesus is with us! What value these words of Pope Francis if we adults don't set an example to our young?

Come on! Let's make the world a place where love of God and love of neighbour win the day!

You see our faith needn't be seen as a set of restrictive rules and processes. It is Truth and it is absolutely beautiful. It is a joy! A joy to be shared with others!

Thank you all so much for your support. We hope we can do more to bring us all a little closer to Jesus in the year ahead. That is, after all, what we are here to do!
Any good work we do is down to God's grace and God's grace alone.
God bless you all.
Categories: Catholic, Children, Church, Faith, God, Jesus, Love, Pope Francis, Relativism, Scotland, Secularism
/