Shopping Cart
Your Cart is Empty
There was an error with PayPal
Click here to try again
Thank you for your business!
You should be receiving an order confirmation from Paypal shortly.
Exit Shopping Cart
Calling Scotland's 841,000 Catholics to unite as one voice
| | |
| --- | --- |
| Posted on March 6, 2015 at 12:27 PM | |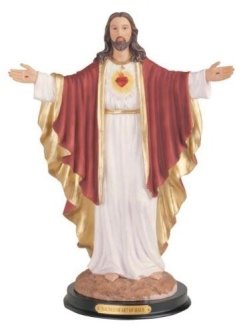 Wouldn't this look nice in your front window?
From Sunday's First Reading (Exodus 20:1-17):
'God spoke all these words. He said, 'I am the Lord your God who brought you out of the land of Egypt, out of the house of slavery.
'You shall have no gods except me.
'You shall not make yourself a carved image or any likeness of anything in heaven or on earth beneath or in the waters under the earth; you shall not bow down to them or serve them. For I, the Lord your God, am a jealous God and I punish the father's fault in the sons, the grandsons, and the great-grandsons of those who hate me; but I show kindness to thousands of those who love me and keep my commandments.''
This first Commandment of God is quite apt considering the content of
Friday's blog
when we considered the dangers of Buddhism and its apparent rise in popularity across western culture. 
As stated in the blog, it is not uncommon to see Buddhist statues and ornaments in homes and gardens today.  Walk down the street and you are bound to see evidence of Buddhism in at least one or two homes.  Yet it is clear from today's first reading that God has an issue with this.
While it may all seem a bit harmless for a Christian household to have a little Buddhist artefact sitting by the window; what kind of message does this send to others about our faith?  Would God not prefer to see a statue of his precious son on display? Would such a gesture perhaps allay any possibility of God becoming jealous, something He Himself said He is quite willing to do if we should bow down to other 'gods'? 
If someone were to walk into your house right now, what would they think?  Would they think that this person has nice wallpaper or a nice carpet?  Would they think that this person likes Buddha?  Or would they walk in and think straight away that this person loves Jesus?  There is no embarrassment in showing the world that you love God and that you love your faith.  You never know, you might even save a soul or two by your witness.
Categories: Bible, Buddhism, Catholic, Christian, Christianity, Church, Commandments, Dwelling on the Word of God, Evangelisation, Faith, God, Idolatry, Jesus, Religion, Scripture, Word of God
/