Shopping Cart
Your Cart is Empty
There was an error with PayPal
Click here to try again
Thank you for your business!
You should be receiving an order confirmation from Paypal shortly.
Exit Shopping Cart
Calling Scotland's 841,000 Catholics to unite as one voice
| | |
| --- | --- |
| Posted on February 6, 2015 at 12:42 PM | |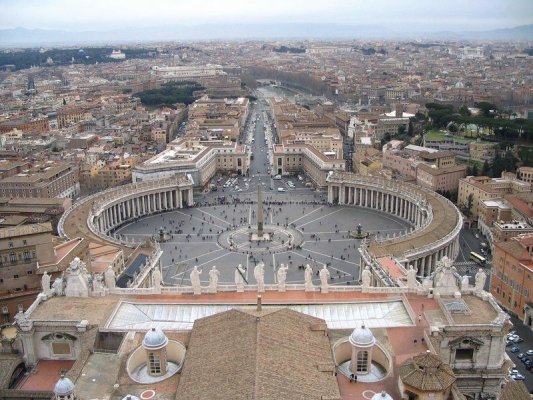 Even the design of St Peter's Square tells us to evangelise
Sunday's Second Reading (1 Corinthians 9:16-19,22-23):
'I do not boast of preaching the gospel, since it is a duty which has been laid on me; I should be punished if I did not preach it! If I had chosen this work myself, I might have been paid for it, but as I have not, it is a responsibility which has been put into my hands.  Do you know what my reward is?  It is this in my preaching, to be able to offer the Good News free, and not insist on the rights which the gospel gives me.
So though I am not a slave of any man I have made myself the slave of everyone so as to win as many as I could.  For the weak I made myself weak.  I made myself all things to all men in order to save some at any cost; and I still do this, for the sake of the gospel, to have a share in its blessings.'
Do you think that it is only priests who are duty bound to proclaim the Word of God?  What about you? 
In order to find an answer to this question we need to consider the role of the Church and the role of its members; people like you and me.  What is it we are called to do as Catholic people?  Well, praising Goda nd surrendering to His Holy Will would certainly be a good start.  Abiding by His Commandments and following the example of Christ is also fundamental.  But we are also called to be in the business of saving souls for Christ.  The Church is a church of mission which means it needs to always be reaching out to people. That's why St Peter's Square is designed the way it is; with open arms stretching out to the world, inviting all people to come to know and to love God!  And a critical part of our mission to save souls is to evangelise.  But how do we evangelise, you might ask?  Simple….by speaking the Word of God and revealing its unrivalled beauty! 
Do you ever wonder why the Church grew so quickly in the years after Jesus' death and resurrection? It was because people like Paul preached the Word of God.  Today is no different.  We are still called to preach the Good News of God's Word to all people in order to bring them closer to God and into a real and personal relationship with Him. And this doesn't just apply to strangers and people who we know to be non-believers.  This evangelising also needs to take place in our own homes, in our families and among our friends.
And, of course, it won't be easy.  It certainly wasn't easy for St Paul when you consider the kind of barriers he faced two thousand years ago; being mocked, abused, tortured and ultimately put to death for his faith.  But if we fall in love with the Word of God, as Paul clearly did, we too can bring people to God.  We too can evangelise the world so that others may come to know the beauty of living a life in the Catholic faith.  We are members of the Church founded by Jesus Christ two thousand years ago!  It is, to this very day, the very same Church, and it is still preaching that same Word of God proclaimed by St Paul in his letter to the Corinthians.
Don't ever be afraid to proclaim God's Word as you go about your daily life.  You are part of a huge family of God which spans the whole of time and has among its number a multitude of saints enjoying the glory and splendour of the Father's Kingdom.  It is a family which, at this very moment, numbers 1.2 billion on planet Earth. Your family is huge!  Why are you afraid?  Remember, God is on your side.  Go out and win people over to Him and find joy in being a true disciple of Christ.
Categories: Abuse, Apologetics, Bible, Catholic, Church, Dwelling on the Word of God, Faith, God, Heaven, Jesus, Joy, Life, Missions, Rome, Saints, Salvation, Scripture, Vatican, Word of God
/