Shopping Cart
Your Cart is Empty
There was an error with PayPal
Click here to try again
Thank you for your business!
You should be receiving an order confirmation from Paypal shortly.
Exit Shopping Cart
Calling Scotland's 841,000 Catholics to unite as one voice
| | |
| --- | --- |
| Posted on February 6, 2015 at 6:53 AM | |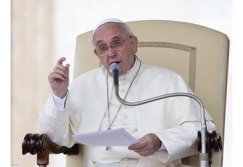 Pope Francis has condemned gossip on numerous occasions
"I tell you, on the day of judgement you will have to give an account for every careless word you utter; for by your words you will be justified and by your words you will be condemned"
Matthew 12: 36
More than any other Pope in the past, Pope Francis warns us frequently to guard against gossip.  He has talked of how gossip is a powerful tool of the devil and has even admitted to being tempted to gossip himself.  He states: "It begins this way, discreetly, like a trickle of water.  It grows by infecting others and in the end it justifies itself."
So what exactly is gossip?  And why does the Holy Father have such an issue with it?  Surely it is just harmless talk and can even strengthen bonds between us and those we are talking to?  It is important that we are clear on what we mean by 'gossip' so we can easily spot it discreetly working its way into our hearts.  And it is also important to be sure of what it is lest we become overscrupulous and falsely accuse ourselves of being a gossip.
As always, it serves us well to turn to the Catechism of the Catholic Church for answers and, regarding conversation, it states:
Respect for the reputation of persons forbids every attitude and word likely to cause them unjust injury. He becomes guilty:
· of rash judgement who, even tacitly, assumes as true, without sufficient foundation, the moral fault of a neighbour;
· of detraction who, without objectively valid reasons, discloses another's faults and failings to persons who did not know them;
· of calumny who, by remarks contrary to the truth, harms the reputation of others and gives occasion for false judgements concerning them.
Gossip therefore can be harmless if it does not disrespect another's reputation and if it does not keep you from attending to your other responsibilities.  But it can become harmful when it leads you to rashly judge your neighbour, or damage their reputation among people who don't know them (even if what you are saying is true), or when you spread lies about them.  It places us on the seat of judgement, causing us to overlook the plank in our own eye and does other untold damage that we might never fully realise.
Our culture is bathed in gossip.  We need only to look at a gossip magazine or tabloid newspaper to appreciate how prevalent it is in society.  We should remember that celebrities are people too.  And I would suggest soap operas and other television programmes, although not technically gossip as of course the characters aren't real, may predispose us and lead us into the habit of this particular sin.
So perhaps in our examination of conscience we could consider the following points when thinking of a time we talked about someone; What was my reason for talking about them?  Was what I said true or was I rashly judging them?  Did I negatively colour the opinion of that person when talking about them to other people?  How would the person feel if they overheard what I said?  How would my comments reflect upon me if they were somehow recorded or published?  Did what I say bring me to a better understanding of the person and call me and others to love them more, or did it bring division?
May we pray for God's mercy for the times we have failed to uphold our neighbour's reputation and for His strength to resist all forms of gossip, as we say the words of St Francis of Assisi:
O Divine Master grant that I may not so much seek to be consoled as to console; to be understood as to understand; to be loved as to love.
Categories: Abuse, Bible, Catechism, Catholic, Christian, Christianity, Church, Devil, Division, God, Gossip, Holy Spirit, Jesus, Life, Love, Peace, Pope Francis, Prayer, Satan, Scripture, Sin, Suffering, Television, Word of God
/