Shopping Cart
Your Cart is Empty
There was an error with PayPal
Click here to try again
Thank you for your business!
You should be receiving an order confirmation from Paypal shortly.
Exit Shopping Cart
Calling Scotland's 841,000 Catholics to unite as one voice
| | |
| --- | --- |
| Posted on January 29, 2015 at 9:21 AM | |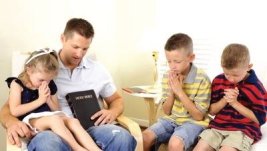 Pope Francis wants more good fathers
Pope Francis, in his weekly general audience, has called on fathers to spend more time with their families.
The Pope's words are critically important to the future of the family and indeed the future of our society.  The role of fathers has gradually been chipped away in recent years, particularly in western secular societies where the role of father is seen as something that is no longer necessarily critical to the development of children.
This degrading of fatherhood has also been keenly felt within Christianity and Catholicism where a lack of strong fathers and leaders in faith has led to a significant decline in Church attendances.  Young people often no longer have an example of faith in their home to guide them in the ways of faith and to show them how to live a good, holy life.  While this isn't always the case - indeed many fathers and mothers provide a beautiful example of how to live a life of faith - there can be little doubt that a father with no keen interest in the faith could lead children to seek something other than God.
In addition to a weak faith, the absence of a father due to other commitements such as work only exacerbates the problem.  And while this is often inevitable because of a need to ensure the family can eat and have a roof over their head, it doesn't always need to be the case.
Pope Francis, who refers to this absence as 'the crisis of fatherhood', said that: "without father figures, young people often feel 'orphaned', left adrift at a critical moment in their growth and development." 
He then called on fathers to be more responsible for their children, saying that fathers are necessaary as examples and guides for our children in wisdom and virtue.
The Pope then invited all people to ask Jesus "to deepen and renew our appreciation of fatherhood and to raise up good fathers for the benefit of our families, our Church and our world."
The importance of fatherhood stretches way beyond the four walls of our family home.  It is a fundamental part of our society.  God gave us all a father and a mother.  It is His will that every child have a father and a mother because both bring different qualities to the family unit.  There is a great need today for strong fathers, particularly in the Catholic Church.  It is the father who must lead his family in faith and all for the greater glory of God.  It is God who has entrusted fathers with this crucially important role and it is God who has entrusted fathers with the care of His very own children. 
For all fathers, consider yourself to be a savings account into which God has deposited something very, very precious and valuable.  That precious thing is a child.  And while God delights in that child at the very moment He entrusts them to your care, He wants some interest on His investment.  He wants a child that will follow the ways of Christ, living a life of love, mercy and compassion for every human being; a life that is consistent with His Commandments; a life that glorifies Him and gives Him praise at every turn.  These are just some of the qualities God wants to see in each of us.  This is the kind of interest God wants in return for the gift of a beautiful little child.  The role of the parent is to build up that interest as much as possible by setting an example by which that child can live a life of love and ultimately enter into the glory of Heaven to be reunited with the Father of all Fathers.
Categories: Catholic, Catholic Education, Children, Christian, Christianity, Church, Commandments, Faith, Family, General Audience, God, Heaven, Jesus, Life, Love, Pope Francis, Vocations
/