Shopping Cart
Your Cart is Empty
There was an error with PayPal
Click here to try again
Thank you for your business!
You should be receiving an order confirmation from Paypal shortly.
Exit Shopping Cart
Calling Scotland's 841,000 Catholics to unite as one voice
| | |
| --- | --- |
| Posted on January 16, 2015 at 8:38 AM | |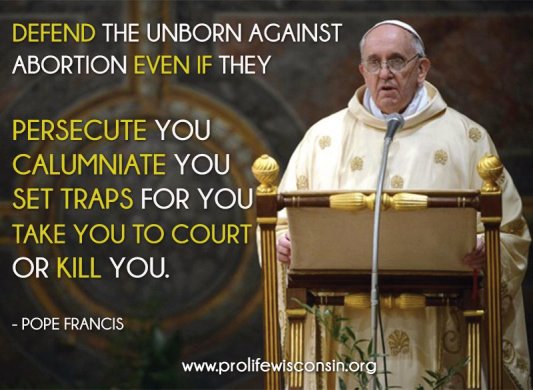 Pope Francis has once again spoken about the need to protect all life
Pope Francis has urged all Catholic people to "protect the beauty and truth of the family" and to "be a support and example for other families" as he delivered a discourse at the Mall of Asia Arena in the Philippines.
The pope said: "The pressures on family life today are many. Here in the Philippines, countless families are still suffering from the effects of natural disasters. The economic situation has caused families to be separated by migration and the search for employment, and financial problems strain many households. While all too many people live in dire poverty, others are caught up in materialism and lifestyles which are destructive of family life and the most basic demands of Christian morality. The family is also threatened by growing efforts on the part of some to redefine the very institution of marriage, by relativism, by the culture of the ephemeral, by a lack of openness to life.
He continued: "Our world needs good and strong families to overcome these threats! The Philippines needs holy and loving families to protect the beauty and truth of the family in God's plan and to be a support and example for other families. Every threat to the family is a threat to society itself. The future of humanity, as Saint John Paul II often said, passes through the family (cf. Familiaris Consortio, 85)."
The Pope then urged the Catholic faithful to protect families, and to protect life from the moment of conception until natural death.  He said: "So protect your families! See in them your country's greatest treasure and nourish them always by prayer and the grace of the sacraments. Families will always have their trials, but may you never add to them! Instead, be living examples of love, forgiveness and care. Be sanctuaries of respect for life, proclaiming the sacredness of every human life from conception to natural death. What a gift this would be to society, if every Christian family lived fully its noble vocation! So rise with Jesus and Mary, and set out on the path the Lord traces for each of you."
The Pope then encouraged Catholic people to be prophetic voices in the midst of their communities as he said: "The Gospel we have heard reminds us of our Christian duty to be prophetic voices in the midst of our communities. Joseph listened to the angel of the Lord and responded to God's call to care for Jesus and Mary. In this way he played his part in God's plan, and became a blessing not only for the Holy Family, but a blessing for all of humanity. With Mary, Joseph served as a model for the boy Jesus as he grew in wisdom, age and grace (cf. Lk 2:52). When families bring children into the world, train them in faith and sound values, and teach them to contribute to society, they become a blessing in our world. God's love becomes present and active by the way we love and by the good works that we do. We extend Christ's kingdom in this world. And in doing this, we prove faithful to the prophetic mission which we have received in baptism."
Categories: Abortion, Abortion, pro-life, Assisted Dying, Assisted Suicide, Catholic, Children, Christian, Christianity, Church, Euthanasia, Events, Family, God, Infanticide, Jesus, Life, Love, Marriage, Natural Family Planning, News, Pope Francis, Poverty, Prayer, Pro-Choice, Pro-Life, Same Sex Marriage, Sex, Sin
/