Shopping Cart
Your Cart is Empty
There was an error with PayPal
Click here to try again
Thank you for your business!
You should be receiving an order confirmation from Paypal shortly.
Exit Shopping Cart
Calling Scotland's 841,000 Catholics to unite as one voice
| | |
| --- | --- |
| Posted on January 16, 2015 at 6:59 AM | |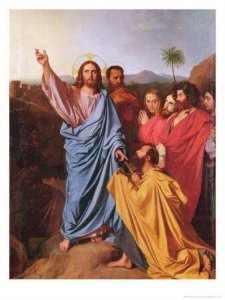 Sunday's Gospel (John 1:35-42):
'As John stood with two of his disciples, Jesus passed, and John stared hard at him and said, 'Look, there is the lamb of God.' Hearing this, the two disciples followed Jesus. Jesus turned round, saw them following and said, 'What do you want?' They answered, 'Rabbi,' – which means Teacher –'where do you live?' 'Come and see' he replied; so they went and saw where he lived, and stayed with him the rest of that day. It was about the tenth hour.
One of these two who became followers of Jesus after hearing what John had said was Andrew, the brother of Simon Peter. Early next morning, Andrew met his brother and said to him, 'We have found the Messiah' – which means the Christ – and he took Simon to Jesus. Jesus looked hard at him and said, 'You are Simon son of John; you are to be called Cephas' – meaning Rock.'
This first encounter between Jesus and Simon is quite fascinating.  What is the first thing Jesus does on meeting Simon?  Is it to shake his hand?  Is it to say hello?  Is it to ask him how his day has been?  Rather interestingly it is none of these.  In fact, Jesus' first action is to look hard at Simon and to give him a new name! 
Have you ever wondered why your name was chosen for you? Your name has some special significance and will have been given to you for a reason; much like Simon was given the name Cephas (or Peter) by Jesus for a reason.  Jesus wanted Simon to be the rock on which his Church was to be built; the first pope!  That is why his name just had to be Cephas (Peter), which means rock. 
Stop for a moment today and think about your name and why it has been given to you.  If it's a biblical name, look for your name in scripture and see what part your namesake plays in God's divine plan.  If it's the name of a saint, do a little digging into that saint and explore the kind of life they led and take some inspiration from them.  If your name is neither biblical nor the name of a saint then perhaps you could be the first saint with that name! 
You see, whatever way you look at it, our names have significance in God's divine plan for our lives.  Our names are important, that's why Jesus felt compelled to change Simon's name.  He knew that Peter was more appropriate and that this name was in keeping with the Father's plan for His Church for all eternity.
You are also part of the Father's plan for all eternity. That's why you have been given life! He has a specific role that only you can play in His Master Plan.  And it might just be that your name holds the key to that role.
Categories: Bible, Catholic, Church, Dwelling on the Word of God, God, Gospel, Gospel Reflection, Jesus, Magisterium, Saints, Scripture, Word of God
/