Shopping Cart
Your Cart is Empty
There was an error with PayPal
Click here to try again
Thank you for your business!
You should be receiving an order confirmation from Paypal shortly.
Exit Shopping Cart
Calling Scotland's 841,000 Catholics to unite as one voice
| | |
| --- | --- |
| Posted on January 9, 2015 at 7:47 AM | |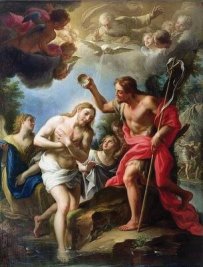 Sunday's Gospel (Mark 1:7-11):
'In the course of his preaching John the Baptist said, 'Someone is following me, someone who is more powerful than I am, and I am not fit to kneel down and undo the strap of his sandals. I have baptised you with water, but he will baptise you with the Holy Spirit.'
It was at this time that Jesus came from Nazareth in Galilee and was baptised in the Jordan by John. No sooner had he come up out of the water than he saw the heavens torn apart and the Spirit, like a dove, descending on him. And a voice came from heaven, 'You are my Son, the Beloved; my favour rests on you.''
Isn't baptism awesome?  Here we have Jesus himself being baptised in the Jordan with the Spirit descending on him and the voice of the Father saying: 'You are my Son, the Beloved; my favour rests on you.'
What a moment for John!  He knew that one greater than he was coming and this great voice from above confirms that Jesus is that great one.  John actually hears the voice of God speaking.  It's an incredible moment. 
Yet this moment is played out across the world each time someone is baptised.  Think of your own baptism and imagine the voice of the Father at that very moment proclaiming: 'This is my son/daughter, my favour rests on you.'
You are truly blessed by God through your baptism!  You have received immesurable graces through your baptism and God is delighted to proclaim this!  Many of these graces may not be known until you are one with the Father in Heaven but you have received them and He wants you to be pleased as He is pleased with you.
Remember, God loves you.  He delights in your being, in your very existence!  Perhaps now is a good time for us to thank Him for giving us life and for pouring out His graces upon us.  Perhaps it is a good time for us to just say a simple 'thank you' to our Father in Heaven and to let Him know that we acknowledge His love for us. 
He gives us His favour, the least we can do is say 'thank you'.
Categories: Baptism, Bible, Catholic, Christian, Church, Dwelling on the Word of God, God, Gospel, Gospel Reflection, Heaven, Holy Spirit, Jesus, Life, Love, Peace, Sacrament, Scripture, Word of God
/