Shopping Cart
Your Cart is Empty
There was an error with PayPal
Click here to try again
Thank you for your business!
You should be receiving an order confirmation from Paypal shortly.
Exit Shopping Cart
Calling Scotland's 841,000 Catholics to unite as one voice
| | |
| --- | --- |
| Posted on October 27, 2014 at 10:51 AM | |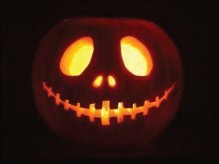 It's a well worn myth that halloween has nothing to do with Christianity and everything to do with paganism.  While countless works of fiction will tell you that Christians stole the occasion from other religions and groups, the truth is somewhat different.
In fact the Catholic Church marked the occasion of halloween from as early as the 8th century (though it wasn't universally declared until the early 9th century) when Pope Gregory III declared 1st November as a day of commemoration for all the saints of the Church.  And as with Catholic tradition, the eve of a special day is marked by a vigil which, with respect to All Saints Day, would take place on 31st October. 
The solemnity of All Saints was, in older times, referred to as allhallowmas or hallowmas which means 'All Saints Day'.  With respect to the vigil of 31st October, this was referred to as halloween which is the vigil or eve of allhalowmas or hallowmas.  So the term halloween is itself derived direct from a Catholic Christian celebration.
While the concept of halloween is distinctly Catholic, the idea of it being a night of horror with ghostly tales and a fright round every corner is a modern secular one without much foundation in Catholic culture.  The Catholic ethos of halloween is more about overcoming evil rather than evil itself.  Therefore, it is more a celebration of 'light' rather than 'darkness'.  
This is reinforced by the fact that Halloween is a celebration marking the eve of All Saints Day.  The saints are, of course, in Heaven.   They have been granted entry to the beatific vision.  They have broken through the darkness into the light.  In that sense, halloween is a celebration of coming through the darkness and into the light of Heaven; the light of God. 
Some people do encourage their children to dress up as saints at halloween so as to acknowledge their status as great role models in faith and to honour their remarkable service to God.  While dressing up as saints may not seem to be everyones cup of tea, it is certainly something to think about.  This is especially true when we consider that the celebration of halloween is inherently Catholic and that it was actually set up to honour the saints!
Click the links, below, for further reading on this topic:
Categories: Apologetics, Catholic, Christian, Christianity, Church, Events, Feast Days, Saints
/