Shopping Cart
Your Cart is Empty
There was an error with PayPal
Click here to try again
Thank you for your business!
You should be receiving an order confirmation from Paypal shortly.
Exit Shopping Cart
Calling Scotland's 841,000 Catholics to unite as one voice
| | |
| --- | --- |
| Posted on October 24, 2014 at 8:58 AM | |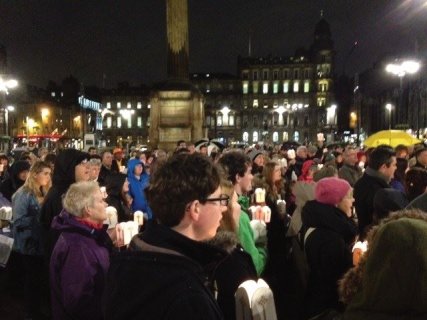 Hundreds braved the cold to stand up for life
Glasgow once again bore witness to the pro-life movement as the annual pro-life torchlight procession took to its streets on Thursday night. 
At least 300 people attended this year's event which is slightly more than last year and must be seen as a positive step in the right direction.  Perhaps the most pleasing thing about the event was the number of young people in attendance.  I have suggested before that there is an undercurrent of Catholic and pro-life youth steadily growing in Scotland, and this was very much in evidence at this event.
The event, which takes place every October, marks the passing of the Abortion Act 1967 and encourages those in attendance to pray for its repeal.
Once again, as in previous years, there was a beautiful recitation of the Rosary in George Square followed by a solemn procession through the busy city streets to St Andrew's Cathedral on Clyde Street .  And while I don't want to go into too much detail about the beauty of the event in George Square, as I believe people should just get off their backsides (health and other commitments permitting) and experience it for themselves, the sound of 'Immaculate Mary' echoing through the centre of Glasgow was an incredible and uplifting experience.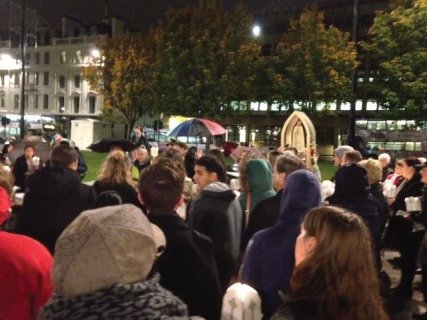 A statue of Our Lady of Fatima was carried through the city streets 

 

After last year's battle cry from Bishop John Keenan it was left to another priest from the Diocese of Paisley, Monsignor John Tormey, to lead the celebration of Mass in the Cathedral.  Monsignor Tormey was careful to acknowledge the difficulties experienced by people in and around abortion and how a new life can sometimes be seen as a threat and can bring about fear, especially for younger women.  Yet, while abortion is one solution, Monsignor Tormey wanted to make it clear that 'we suggest an alternative solution'.

 

That alternative solution is, of course, life, but it relies on one very important thing.  It relies on the availability of support for mother and baby and extended family.  If we can ensure that support is available then we can put forward life as a real alternative solution to abortion for many hundreds of women.  As a Catholic people we must embrace our mission to spread the Gospel of Life and to be prepared to debate it with others.  But we must be able do this with great confidence in the support available for mothers encountering the most difficult decision they will ever face. 

 

Thankfully, and by the Grace of God, there is help available.  Even in Glasgow there are dedicated resources for mothers, as well as fathers and other family members, struggling with pregnancy and the thought of a little child in their lives.  Please be sure to check out our Abortion page by

clicking this link

.  There you will find a number of resources for people who may find themselves struggling with the decision of whether to abort or whether to keep their baby. 

 

Now, in the days leading up to Thursday's pro-life event in Glasgow, I set out a pro-life challenge to try and encourage people to attend.  While numbers were up we still fell way short of what I know we can achieve.  However, what's done is done and we can only hope that next year our numbers will increase again.  But before that, it's time for another challenge.  In the year ahead we may well come across someone who is considering having an abortion.  You may hear of it from the mother herself or from her partner or perhaps just a family friend.  Whatever the circumstances, please consider your mission to stand up for life.  Suggest that there is an alternative solution and that help is available.  Point them in the direction of the organisations listed on our Abortion page.  Tell them that there are people willing to listen to their problems and difficulties, whatever they may be.  Just give them that alternative.  And then pray; pray very hard for them.  Pray that their hearts may soften to the opportunity of new life in their lives.  It may be that your gentle nudge in the direction of help and support allied with your prayer brings a new life into the world and creates a loving family full of joy.

 

Please, do not feel limited as to what you can achieve in the cause of life.  Every little prayer helps.  And even your own positive witness to the great joys of life can change hearts and minds.  Don't waste an opportunity to help someone who is considering abortion, you might just save a life. 

 

Categories: Abortion, Abortion, pro-life, Catholic, Children, Church, Events, Glasgow, Life, Mass, News, Our Lady, Pro-Choice, Pro-Life, Rosary, Scotland, Virgin Mary, Women, Youth

0

/