Shopping Cart
Your Cart is Empty
There was an error with PayPal
Click here to try again
Thank you for your business!
You should be receiving an order confirmation from Paypal shortly.
Exit Shopping Cart
Calling Scotland's 841,000 Catholics to unite as one voice
| | |
| --- | --- |
| Posted on October 17, 2014 at 7:53 AM | |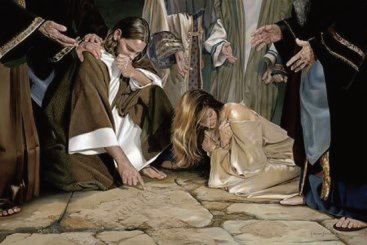 Consider this Gospel passage (John 8:1-11):
And Jesus went to the Mount of Olives.  At daybreak he appeared in the Temple again; and as all the people came to him, he sat down and began to teach them.  The scribes and Pharisees brought a woman along who had been caught committing adultery; and making her stand there in the middle they said to Jesus, 'Master, this woman was caught in the very act of committing adultery, and in the Law Moses has ordered us to stone women of this kind.  What have you got to say?'  They asked him this as a test, looking for an accusation to use against him.  But Jesus bent down and started writing on the ground with his finger.  As they persisted with their question, he straightened up and said, 'Let the one among you who is guiltless be the first to throw a stone at her.'  Then he bent down and continued writing on the ground.  When they heard this they went away one by one, beginning with the eldest, until the last one had gone and Jesus was left alone with the woman, who remained in the middle.  Jesus again straightened up and said, 'Woman, where are they?  Has no one condemned you,' said Jesus.  'Go away, and from this moment sin no more.' 
Nobody knows what Jesus wrote in the sand in this Gospel passage.  Some suggest it was the sins of the scribes and the Pharisees.  Others suggest Jesus was making the point that the sins of the scribes and the Pharisees were as many as the grains of sand on the ground.  But whatever it was, it made them walk away from their intended execution of the adulterous woman.
This passage is perhaps relevant when we consider the recent furore around the Church's Synod on Family Life.  The Synod has been established as a forum for Church fathers to consider important issues around family life such as marriage, divorce, cohabitation, contraception and homosexuality.  The furore, as I have so delicately put it, centres around the publication of the Synod's mid-term report, the language of which has made some Catholic people quiver at the prospect of changes to Church teaching. 
While any change in Church doctrine is, thankfully, very unlikely, the document contains a clear undertone which suggests a certain sympathy or understanding with people in sinful situations.  There were positives drawn from people living in same-sex relationships and cohabiting couples.  There was talk of further consideration of the issue of participation in the sacraments for divorced and remarried people.  It appears the Church is not going to shirk from discussing the big issues.
For me, the report, rather than setting out a threat to Church teaching, has brought about an opportunity to consider how we treat sinners.  It is more about what we do with sinners rather than drilling down to what is actually a sin.  And this is where the Gospel is so relevant. 
The Synod report is a working document which will be subject to change as the first gathering of the Synod comes to a close this week.  Further, even when this work is done the report will not be an authoritative document.  No significant decisions will be made until October 2015 when the Synod gathers again to finalise its views.
In the meantime, we are all asked to consider the content of the Synod's discussions.  Content which for me suggests the Church is encouraging careful consideration of how we treat people in sinful situations.  It's all well and good saying that there is a simple answer to sin in the form of the sacrament of reconciliation.  However, it is a whole different ball game getting people there.  Indeed, many people who consider themselves to be practising Catholics probably don't go to confession as often as they should.  Consider Pope Francis and his fortnightly visit to the sacrament.  If he needs it twice per month, how often do I need it??
So, how do we get people to confession?  How do we get people to engage more with the Church?  That is, after all, where we want sinners to be; in the Church!  I know I am a sinner; that's why I am Catholic, that's why I go to Mass every week.  I need the grace of God to sustain me and to help me.  I am, in truth, no different to the adulterous woman in the Gospel and I need the same grace of God as she did.    
I feel that the Synod has thus far been an extremely useful exercise for the Church.  I think it is an opportunity for the Catholic Church to seriously consider how we reach out to people.  I think it is an opportunity to reaffirm the beautiful teaching of the Church but to perhaps take a slightly different tact in how we share it with people.  It's not about watering down Church teaching; it's about how we wrap our arms around people who need God's forgiveness.  It's about how we lead them and their families to the Church and to participation in the sacraments.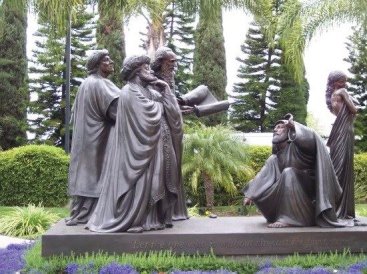 Who do you want to be….the loving Jesus coming to the aid of someone in need, or the self-righteous Pharisees, ever willing to condemn at the first hint of sin?  Jesus forgave the adulterous woman.  But before he did this, he chastised those who tried to claim the moral high ground and who condemned her.  He told them: 'Let the one among you who is guiltless be the first to throw a stone at her.'  Nobody threw a stone.  Why?  Because nobody is guiltless.  The only two people to walk the earth without guilt and sin were Jesus and our Blessed Mother, Mary.  Everyone else carries guilt and carries sin.  Everyone else needs the forgiveness of God. 

 

If we took fellow sinners in our loving, compassionate arms as Jesus did, couldn't we bring many more people to the Church and to God? 

 

The next time you stand before a sinner, think of this Gospel and drop the stone in your hand.  Be more like Jesus and come to their aid.  Wrap your arms around them and show them the love and compassion that awaits them in Christ's Church.

 

Categories: Catholic, Church, Confession, Dwelling on the Word of God, Evangelisation, Events, Family, God, Gospel, Gospel Reflection, Jesus, Love, Marriage, Mary, Mother of God, News, Our Lady, Pope Francis, Reconciliation, Rome, Sacrament, Salvation, Scripture, Sin, Synod, Vatican, Virgin Mary, Word of God

0

/