Shopping Cart
Your Cart is Empty
There was an error with PayPal
Click here to try again
Thank you for your business!
You should be receiving an order confirmation from Paypal shortly.
Exit Shopping Cart
Calling Scotland's 841,000 Catholics to unite as one voice
| | |
| --- | --- |
| Posted on October 14, 2014 at 3:44 PM | |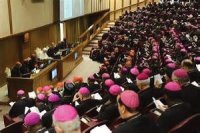 The fallout from the Synod on Family Life's mid-term report has been palpable over the last twenty four hours or so.  Some see it as a shift towards a more liberal Church and this has caused some gay rights groups to welcome the report.  This, in turn, has led to some people within the Catholic Church bemoaning the softer tone coming out of the gathering of some 200 bishops, and leaping to the defence of Church doctrine which has, and will thankfully continue to last, thousands of years.
Perhaps the biggest disappointment out of all of this is not so much the naïve reporting from the mainstream media; that is, after all, to be expected.  Rather the biggest disappointment is the somewhat elitist stance being taken by many Catholic people who claim to be conservative or traditional. While I myself endeavour at every turn to adhere to Church doctrine I'm afraid I inevitably fail. And it is this failure which is the very reason I belong to the Church. I belong to the Church because I myself am a sinner!
People who are criticising the Synod for suggesting a more merciful and compassionate approach to homosexuality and divorce must surely recognise the log in their own eye before claiming the moral high ground over anyone else. We are all sinners in need of God's mercy. Every last one of us! What the Synod is considering is highly unlikely to change thousands of years of Church teaching, and this is a blessing. However, to suggest we ignore the plight of certain groups of people simply because they commit a certain sin or because we feel superior to them is not Christian; it is not befitting of the body of Christ, which is what we are. 
To those who are inclined to criticise....we need to ask ourselves what it is that entitles us to look straight past the log in our own eye so as to criticise others? Take homosexual acts for example. We know it is disordered from the natural order of God's plan for humanity. We know it's a sin. And that is why we must acknowledge our mission to spread the Good News of the Gospel and the teaching of the Church to those who are in sinful situations.  But we must do this in a spirit of forgiveness and healing. Our job is not to glory in the sinful actions of others or mock them. This is not our mission.  Our mission is to bring the forgiving grace offered by Christ's Church to all people and to accompany them with love on that journey.  If we can benefit from God's forgiveness, why can't they? 
It is not a compromise of faith or of Church doctrine, it is a compromise of the heart.
Categories: Catholic, Christian, Christianity, Church, Events, Faith, Family, God, Homosexuality, Jesus, Life, Love, Marriage, News, Pope Francis, Rome, Same Sex Marriage, Sin, Synod
/