Shopping Cart
Your Cart is Empty
There was an error with PayPal
Click here to try again
Thank you for your business!
You should be receiving an order confirmation from Paypal shortly.
Exit Shopping Cart
Calling Scotland's 841,000 Catholics to unite as one voice
| | |
| --- | --- |
| Posted on August 19, 2014 at 9:07 AM | |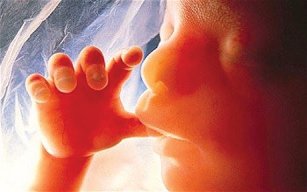 Why is abortion unacceptable at any phase in the development of an embryo?
God-given human life is God's own property; it is sacred from the first moment of its existence and not under the control of any human being.  "Before I formed you in the womb I knew you, and before you were born I consecrated you" (Jer 1:5).  God alone is Lord over life and death.  Not even "my" life belongs to me.  Every child, from the moment of conception on, has a right to life.  From his earliest beginnings an unborn human being is a separate person, and no one can infringe upon his rights, not the state, not the doctor, and not even the mother.  The Church's clarity about this is not a lack of compassion; she means, rather, to point out the irreparable harm that is inflicted on the child who is killed in abortion and on his parents and on society as a whole.  Protecting innocent human life is one of the noblest tasks of the state.  If a state evades this responsibility, it undermines the foundations of the rule of law.
(Catholic Youth Catechism, question 383)

Can a handicapped child be aborted?
No.  Aborting a handicapped child is always a serious crime, even if it is done with the intention of sparing that person suffering later on.
(Catholic Youth Catechism, question 384)
Can experiments be performed on living embryos and embryonic stem cells?
No.  Embryos are human beings, because human life begins with the fusion of a sperm cell and an egg.  Regarding embryos as biological material, "producing" them and then "using" their stem cells for purposes of research is absolutely immoral and falls under the commandment "You shall not kill".
Research on adult stem cells is a different matter, since they cannot develop into human beings.  Medical interventions on an embryo are justifiable only if they are made with the intention of healing, if the life and unimpaired development of the child are assured, and if the risks involved are not disproportionately great.
(Catholic Youth Catechism, question 385)
Categories: Abortion, Abortion, pro-life, Catechism, Catholic, Church, Learn the Catholic Faith, Life, Science
/